Christian Stewart was among three people who burglarized and ransacked two homes in 2017.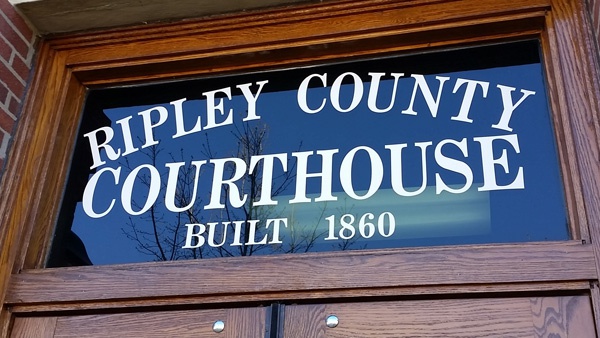 File photo
(Ripley County, Ind.) - A Ripley County jury came back with guilty verdicts for a home burglar.
Christian Stewart, 23, of Madison, went on trial earlier this month in Ripley County court. Jurors convicted him December 14th on charges of Conspiracy to Commit Burglary While Armed with a Deadly Weapon (level 2 felony) and Possession of a Firearm as a Serious Violent Felon (level 4 felony).
In May 2017, Stewart, his girlfriend, and his brother broke into a home in Cross Plains, taking items and ransacking the home. A neighbor called police, and Ripley County Sheriff's Lt. Randy Holt caught the trio in the act.
According to the Ripley County Prosecutor's Office, "upon arrival, Christian Stewart was located in the area where the neighbors had found him possessing a loaded handgun. While at the scene and after learning that there were potentially more individuals involved in the burglary, Lieutenant Holt responded to a vehicle stuck in a field within approximately a half mile of the burglarized cabin. At the truck, Holt located Stewart's girlfriend, Kelsey Luellen, along with items taken from the cabin, multiple facemasks and bandanas, and multiple pairs of gloves."
"Shortly thereafter, officers observed a third individual, later identified as Stewart's brother, Cameron Stewart, located in a house approximately three-quarters of a mile from the first burglary. After officers had the house surrounded, the individual attempted to flee from the house but was quickly apprehended by officers where he also had a loaded handgun in his possession."
Prosecutors said the burglars were extremely destructive at both scenes, which included kicked-in doors and broken windows. Furniture was turned over and broken, items were torn from walls, and dresser and cabinet drawers were removed.
Stewart faces up to 30 years on the level 3 felony burglary charge when he is sentenced on January 10, 2019 by Judge Jeffrey Sharp.
Stewart's younger brother and his girlfriend have both been previously convicted of burglary charges for their role in the crimes and are currently serving their prison sentences. Cameron Stewart was sentenced in August to six years behind bars. Kelsey Luellen is in for eight years after being sentenced in October.
Ripley County Prosecutor Ric Hertel stated, "These defendants placed many lives in danger that day. We're very happy with the jury's finding of guilt on all counts."
The State was represented at trial by Chief Deputy Prosecutor Shane A. Tucker, who complimented the sheriff's office on their thorough investigation of the case.
RELATED STORIES: