Don't miss the final show of the year at the Lawrenceburg Fairgrounds.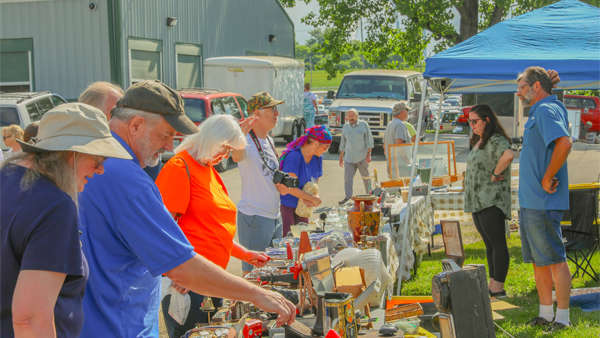 (Lawrenceburg, Ind.) - October 1 will mark the last hurrah for antiquing at Indiana's largest monthly antiques and vintage only market, for 2023 at least. It's been a good season for treasure hunting; with growing participation from dealers setting up at the Market to the incredible antique and vintage items they bring month in and month out. The Market will start up again in May of 2024, but until then there is one last opportunity for fine Fall antiquing in the tri-state.
Market vendors respond well to seasonal change and there is sure to be a crisp and cozy atmosphere as they unveil vintage items for cooler weather and the oncoming holiday season. Retro Halloween costumes, vintage sweaters, collectible memorabilia, vintage kitchenware, and unique antique items perfect for gift giving will be brightly displayed and available for purchase.
The Market is located at the Lawrenceburg Fairgrounds, one mile west of exit 16 off I-275. The 5 acre fairgrounds is within minutes of both the Ohio and Kentucky borders and is full of quaint, country charm as well as modern amenities such as wheelchair accessibility, shaded rest areas, and a variety of food vendors.
Tri-State Antique Market hours are from 7 AM to 3 PM ET. "Earlybird" shoppers are admitted during vendor set up at 6 AM. A walk-in $5.00 adult admission is charged during Market hours. Attended pets and children are welcome without charge. Over half of the Market's vendors display indoors or under cover, so the event is held "rain or shine."
Complete Tri-State Antique Market information, including directions, area accommodations, and photos of past Market finds is available at www.lawrenceburgantiqueshow.com and the Facebook and Instagram pages under Tri-State Antique Market, or by contacting promoter Aaron Metzger at (513)702-2680 or info@lawrenceburgantiqueshow.com.