We caught up with Kristin today to get her reaction to winning this prestigious award.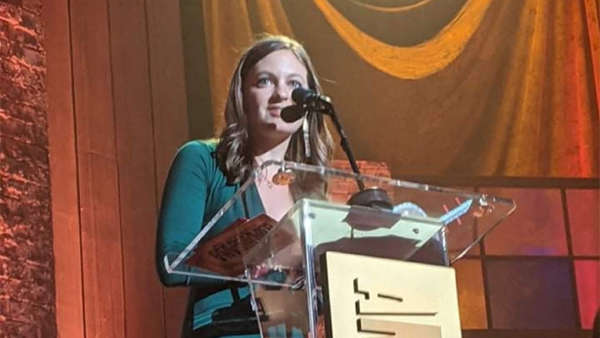 Kristin Weber accepts the AMA Instrumentalists of the Year award. Photo provided.
(Aurora, Ind.) – From Smalltown, USA to big-time instrumentalist.
That is one way to describe Kristin Weber, who was recently named the 2021 Americana Music Association Instrumentalist of the Year.
"First, it was definitely complete shock," said Weber. "I had kind of started to write a speech earlier that day, and it was a busy day and I though ah I'm not even going to worry about it, I probably won't need it. It wasn't even on my mind, I wasn't expecting it."
HEAR DOUBLE T'S FULL INTERVIEW WITH KRISTIN WEBER IN THE AUDIO PLAYER BELOW
Weber is an Aurora native who attended St. Mary School and South Dearborn High School prior to earning her music degree from Berklee College of Music.
Her career has spanned 14 years of touring, and recording as a fiddler. Weber has also written string arrangements and recorded on numerous records since moving to Nashville in 2008.
She's performed with a who's-who of musicians including Dolly Parton, Kacey Mustgraves, Lee Ann Womack, Midland, Michael Buble, and Eminem.
"Definitely the most memorable moment I've ever had was when I got to record "Jolene" with Dolly Parton singing it in the room with us," said Weber.
Later today, Weber will have the opportunity to shooting a video with Carrie Underwood, adding to the list of memorable moments in her career.
For more information about Weber, visit Kristin Weber (kristinwebermusic.com).