The accident happened Friday afternoon near Vevay.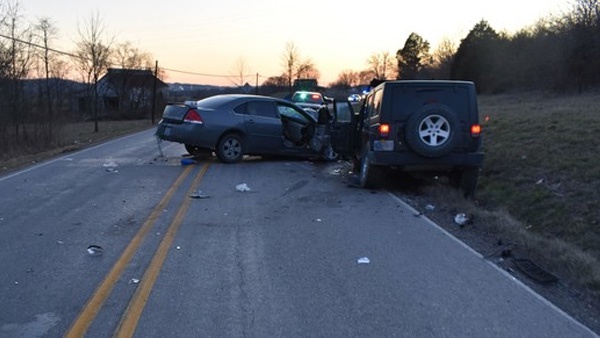 Photo by Indiana State Police.
(Vevay, Ind.) – A Kentucky man was killed in a head-on accident in Switzerland County.
Indiana State Police say the accident took place on State Road 156 near Vevay on Friday.
According to a news release, Jeffery C. Osborne, 29, of LaGrange, Kentucky was traveling eastbound on SR 156 near Plum Creek Road when his vehicle collided head-on with a vehicle driven by Shelby L. McCrillis, 26, of Patriot.
Troopers say Osborne's vehicle left the roadway and returned to the road prior to striking the other vehicle.
Osborne was pronounced dead at the scene by the Switzerland County Coroner's Office.
McCrillis sustained non-life-threatening injuries. She was treated at King's Daughters' Hospital in Madison.
The investigation determined Osborne was not wearing a seatbelt at the time of the crash, while McCrillis was.
Alcohol and drugs are not believed to be factors in the crash. Toxicology results on both drivers are pending.
The Indiana State Police was assisted by the Switzerland County Sheriff's Department, Switzerland County EMS, Jeff/Craig Fire Department, and Switzerland County Coroner's Office.