One member of the Franklin County Board of Zoning Appeals should not have been allowed on the board when it decided on a conditional use permit for a 5,000-hog operation.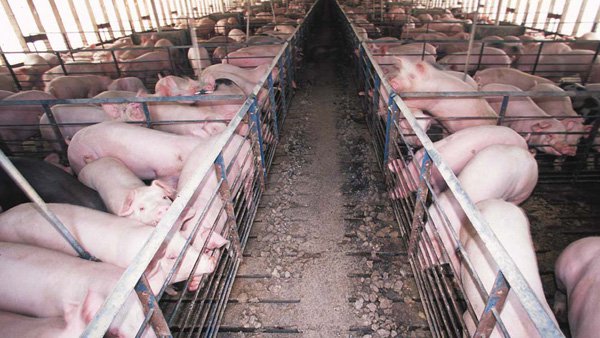 Photo author unknown, Wikipedia.
(Franklin County, Ind.) – A judge has ruled that a controversial vote by Franklin County's Board of Zoning Appeals was invalid because one of the voting members should have never been allowed on the board.
The BZA voted 3-1 in March 2018 to allow a conditional use permit for a 102-acre site owned by Scott and Susan Cooper in Franklin County's Fairfield Township. The Coopers, of Liberty, Indiana, needed the permit to allow them to establish a massive confined animal feeding operation, or CAFO, housing roughly 5,000 hogs. It would be located at Powell and Bath roads.
At least 13 neighbors opposed to the project soon filed a lawsuit seeking to stop the CAFO. In their suit, they contended that BZA member Jeff Batchler did not qualify to serve on the board because he is not a landowner, which is required by the BZA's own membership requirements. Batchler had voted in favor of the CAFO conditional use.
On January 8, Fayette Superior Court Special Judge Paul Freed issued a summary judgment in favor of the plaintiffs.
"Because all actions of the BZA must receive at least three votes in favor under Franklin Zoning Code § 80.12.01, and Jeff Batchler's appointment to the BZA violated the Franklin County Zoning Ordinance due to his lack of property ownership in Franklin County, Conditional Use Permit CU-2-17-20681 was not } authorized by majority of the entire membership of the BZA and is therefore invalid for l this reason alone," Freed's stated in his five-page decision.
Without Batchler's vote, the conditional use permit vote was only 2-1, a vote short of the required three in favor.
The lawsuit and ruling did not challenge the CAFO condition use permit on its own merits. The Indiana Department of Environmental Management had given its approvals of the Coopers' planned operation in 2017.
According to IDEM, there were 11 other CAFOs operating in Franklin County as of mid-2017.
RELATED STORIES:
Franklin Co. Zone Change Paves Way For Massive Hog Farm
Report: Proposed Concentrated Animal Feeding Operation Near Brookville Lake Gets IDEM Approval
Public Hearing Tackles Factory Farms Change In Approach To Fighting Indiana Factory-Farm Pollution