James Wilkie Lemon helped lead the small bank into the 21st century.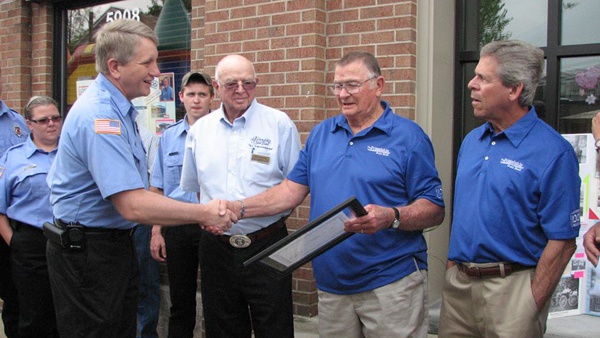 James Lemon (second from right) was a longtime leader of the Friendship State Bank and member of the Friendship Volunteer Fire Department.
(Friendship, Ind.) - A man who was synonymous with the southeastern Indiana hamlet of Friendship has died.
James Wilkie Lemon died on January 6. He was 92.
Lemon was the son of Wilkie S. Lemon, a local farmer who founded Friendship State Bank in 1912. He worked at the bank his father established for 55 years, much of that time as the bank's president and board chairman until his retirement in 2014.
James was born in Friendship and graduated from Cross Plains High School in 1944, according to his obituary. He then joined up with the U.S. Army and fought in the Pacific theater in World War II. He was on the way to battle on the Japanese mainland when victory was declared on VJ Day. James was honorably discharged in November of 1946 after earning a Bronze Star.
In addition to serving his country, Lemon also served his community. He was a member of the Friendship Volunteer Fire Department, Brown Township Post of the American Legion, Ripley County 40 & 8 Voiture 1047, Versailles Masonic Lodge, and Indianapolis Valley Scottish Rite.
He was a member of the Ripley County Basketball Hall of Fame for his play at Cross Plains. He was also in the Friendship-based National Muzzleloading Rifle Association's Black Powder Hall of Fame.
James is survived by his wife of 69 years, Patricia. Also, his daughter Evelyn Israel. His sons James Lemon and Tracy Lemon are on the Friendship State Bank's Board of Directors today. He had seven grandchildren, 10 great grandchildren, and many nieces and nephews.
Visitation for James Lemon will happen Thursday, January 10 from 3:00 until 7:00 p.m. at Stratton-Karsteter Funeral Home in Versailles. Final services will be held Friday, January 11 at 1:00 p.m. at the Bear Creek Baptist Church in Friendship. He will be buried at Benham Cemetery with military rites performed by the Brown Township American Legion.
Memorial donations can be made to the Ripley County 40 & 8 Nurses Scholarship Fund.