Every year, two are selected from each ALA Girls State program to attend Girls Nation in Washington, DC.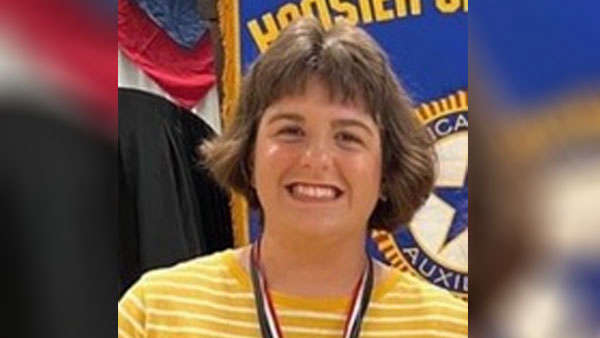 (Osgood, Ind.) - Tracy McKittrick, the daughter of Ed and Lisa McKittrick, was one of two young women chosen to represent Indiana during the 75th annual session of American Legion Auxiliary Girls Nation in Washington, DC. Girls Nation was held July 23-30, 2022.
Miss McKittrick, a senior at Jac-Cen-Del Jr./Sr. High School, was selected from a group of approximately 250 other young women who attended the 80th annual session of American Legion Auxiliary Hoosier Girls State (ALA HGS), which took place June 19-25, 2022. Miss McKittrick's attendance at ALA HGS was sponsored by American Legion Post 267 in Osgood. ALA HGS is a life-changing program designed to educate our future leaders on the duties, privileges, rights, and responsibilities of citizenship in a non-partisan manner. Citizens construct a party platform, register to vote, campaign for elected office, and fulfill the obligations of their position. Miss McKittrick was elected Girls State Attorney General, one of the six premier offices.
Every year, two outstanding girls are selected from each ALA Girls State program to attend Girls Nation in Washington, DC. These girls are referred to as Girls Nation senators. Participating in a mock legislature, senators debate and vote on legislation crafted by themselves and their fellow Girls Nation senators from across the country. Miss McKittrick's resolution was successfully passed by a significant majority. A president and vice president are elected, then a cabinet and a Supreme Court is appointed by the president.
Girls Nation senators have the honor of meeting their real-life senators, in addition to touring some of the most important and iconic locales in America. These include Arlington Cemetery, the White House, and the National Mall. Another highlight of Girls Nation is the Twilight Tattoo, a concert showcasing the progress of the American military throughout history. This year, all Girls Nation senators participated in a service project for the Red Cross, making packages for caregivers of veterans.
Being chosen to attend Girls Nation is one of the most prestigious honors a high school student can receive. It is a significant stepping stone toward a life in public service. Among Girls Nation alumni are members of presidential cabinets, mayors, governors, state representatives, U.S. senators, corporate CEOs, nationally known journalists, and military officers. This program instills in its senators the values of intelligent leadership, exposing each participant to a wide array of new opportunities, and leaving their futures a little bit brighter. McKittrick has her sights set on attending Indiana University, majoring in Law & Public Policy with the intention of advancing to law school.