McDonald's restaurants offer their employees up to $3,000 in tuition assistance, Ivy Tech to support with counseling, planning and by articulating some McDonald's work experience into credit hours.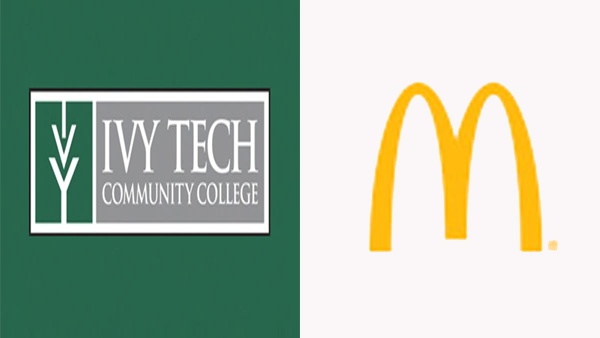 (Indianapolis, Ind.) - McDonald's restaurants and Ivy Tech Community College across Indiana today launched an alliance to make college more affordable and offer training for the future workforce that will be shared at more than 300 McDonald's locations and 40 Ivy Tech locations.
Through McDonald's Archways to Opportunity program, restaurant employees who work a minimum of 90 days at 15 hours per week will be eligible for tuition assistance of up to $2,500 per year as a crew member and up to $3,000 per year as a manager. Ivy Tech will offer crosswalk credits to McDonald's restaurant employees for some on-the-job training and classes, plus individualized counseling – allowing them to earn a degree faster.
McDonald's restaurants in Indiana have enrolled a number of employees in the Archways to Opportunity tuition assistance program since its inception five years ago. Throughout 2019, McDonald's invested more than $1.2 million in tuition assistance to restaurant employees across Indiana. "There is no limit," said Robert Terhune, McDonald's owner/operator and president of the Greater Indiana Operator Co-Op. "We want to encourage as many of our employees and students across Indiana as we can to take advantage of this tuition assistance program. We believe this strengthens all of our communities throughout Indiana."
Ivy Tech's degree crosswalk will allow McDonald's employees to work with an Ivy Tech counselor to determine which of their McDonald's training and work experiences may articulate into credits which they can apply towards their certificate or degree. The flexibility of Ivy Tech having both online classes and locations statewide will give employees the option to complete coursework on their schedule: whether that be during the day, evening, weekend or whenever it's convenient.
With most Ivy Tech students working while they attend school, Ivy Tech leadership says this new partnership fits in perfect with Ivy Tech Community College's mission. "Ivy Tech locations across Indiana currently enroll many talented McDonald's employees pursuing upward mobility in their careers and we expect this partnership to encourage even more employees to enroll and at the same time, assist in finding potential new employees for McDonald's and new students for Ivy Tech," said Ivy Tech President Sue Ellspermann. "Each Ivy Tech campus will dedicate an advisor to McDonald's employee enrollment, questions and scheduling needs. We are committed to helping each and every employee further their education and achieve their dreams."
"This is the exact kind of forward-thinking partnership that enables Indiana to develop our skilled and ready workforce," said Governor Eric Holcomb. "The combined strength of these two great entities will allow thousands of students to pursue their dreams and simultaneously help keep Indiana's economy moving full steam ahead."
McDonald's and its independent franchisees provide jobs for almost 2 million people across the world and are committed to inspiring workplaces where everyone – from crew to C-suite – is equally supported and empowered to realize their full potential. This Ivy Tech alliance underscores the ways jobs at McDonald's restaurants help build skills, education and relationships that translate to new experiences. Whether crew members plan to enjoy a career at McDonald's or in another industry, the skills made at McDonald's restaurants are transferrable no matter what career path they choose.
To learn more about the McDonald's Archways to Opportunity education program, visit any Indiana McDonald's or the Archways to Opportunity website (archwaystoopportunity.com) or visit Ivy Tech's website (ivytech.edu/mcdonalds).