Randolph County police said "outside of the person resembling the sketch, there is currently zero evidence that ties him to this case and he is not a suspect in the case"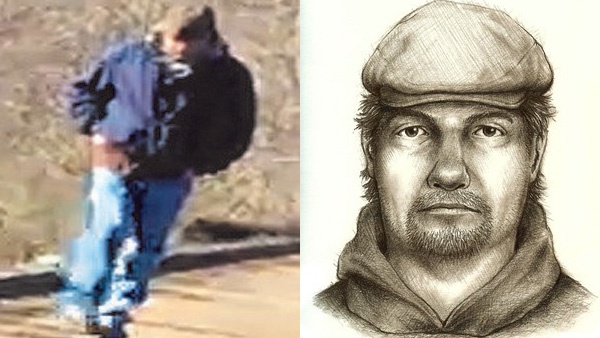 A camera image and sketch drawing of a person of interest wanted for questioning in connection with the February 2017 murders of Liberty German and Abigail Williams near Delphi, Indiana. Images via Indiana State Police.
(Delphi, Ind.) – The murders of two girls in Delphi, Indiana remain unsolved almost two years after the heinous crime.
Liberty German, 14, and Abigail Williams, 13, were murdered in a wooded area along the Monon Trail. They had gone hiking but never returned home on February 13, 2017. Their bodies were found the following day, Valentine's Day.
A multi-agency team has been trying to find the killer since then. The team consists of members of the Carroll County Sheriff's Department, the FBI and the Indiana State Police.
On January 14, the team said it has received public inquiries about the arrest of a person in Union County, Indiana on January 8. That suspect, who has not been charged in connection with he Delphi murders, faces allegations of sexually related crimes against children.
His mugshot resembles that of a sketch released by investigators in the Delphi case.
"The team is aware of this arrest and will investigate to see if there could be any connection to the murders that occurred in Delphi, Indiana on February 14th of 2017," according to an Indiana State Police news release.
"It is important for the public and media to know that many similar tips and arrests of other persons alleged to be connected to the Delphi murders occur with some frequency in and outside of Indiana. Each tip - whether it receives media attention or not - is investigated for any connection to the Delphi case. That said, members of the Delphi multi-agency investigative team do not speak to specific actions or steps of the ongoing investigation."
Capt. Dave Bursten, the Chief Public Information Officer for the ISP, commented, "We know it's hard for the public and media to resist posting side-by-side comparisons on social media of people who are alleged to have committed heinous crimes and also resemble the sketch of the Delphi murder suspect."
Bursten said the only positive action from social media sleuths is that it keeps the investigation in the minds of the public. He asks that tips continue to be sent to Abbyandlibbytip@cacoshrf.com or called in to a tip line at (844) 459-5786.
"I can promise you this, when an arrest is made of a suspect identified by the multi-agency investigative team as the alleged perpetrator of the Delphi Murders, rest assured, we will let everyone know," Bursten concluded.
Information on the investigation is shared with the public at https://www.in.gov/isp/delphi.htm.