The legislature reconvened on Monday.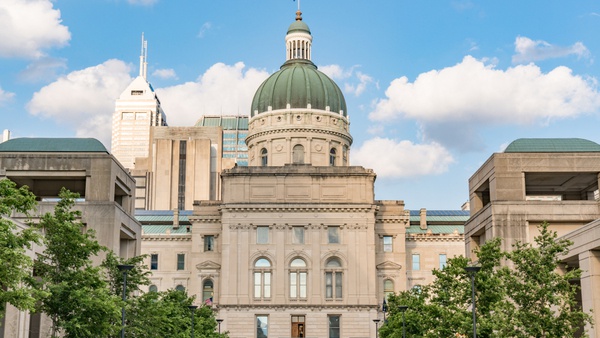 Shutterstock photo.
(Indianapolis, Ind.) - Indiana Senate Democrats and Indiana Senate Republicans have announced their 2021 legislative priorities.
On Tuesday, Senate Democratic Leader Greg Taylor (D-Indianapolis) and members of the Senate Democratic Caucus outlined the four main tenets of their 2021 agenda, which consists of:
Raise the minimum wage so that all Hoosiers can earn a living wage
Boost workers' compensation benefits that haven't increased in over five years
Support the IBLC justice reform agenda, especially banning no-knock warrants and chokehold maneuvers
Expand access to voting by allowing no-excuse absentee voting and ballot drop boxes
"These priorities that we shared today have always been important to the lives of Hoosiers and should be the priorities of all members of the General Assembly," Sen. Taylor said. "However, this pandemic quickly and overwhelmingly showed how our public policy is lacking in many ways.
Taylor added that our society relies on minimum wage workers, and yet the state refuses to pay all Hoosiers a living wage.
"Thousands of Hoosiers work multiple jobs for starvation wages. Indiana has a large and proud working class, and yet we do not support them adequately. Workers' compensation benefits have not been increased for many years for those who are hurt on the job," said Taylor.
Taylor had the following comments regarding justice reform and expanded access to voting:
"It's clear that our justice system does not fairly represent or treat all Hoosiers equally. This past year has demonstrated how we need to rethink how law enforcement interacts with Hoosiers. In addition, Indiana has some of the strictest voting laws in the nation. We should be making sure all Hoosiers have full and easy access to their constitutional right to vote. Barriers to voting need to be struck down."
On Wednesday, Indiana Senate President Pro Tem Rodric Bray (R-Martinsville) and the Senate Republican Caucus released their legislative agenda for the 2021 session.
The first order of business for Republicans is to maintain their record of fiscal responsibility by passing the state's ninth consecutive balanced budget.
Other legislative priorities for the Senate Republican Caucus include:
Give businesses, individuals and health care entities liability protections from COVID-19 lawsuits
Fully fund students who are virtual due to COVID-19
Codify telehealth expansions enacted during the pandemic
Improve local government accountability
"My caucus members and I are prioritizing a handful of items that we believe are at the top of the minds of Hoosiers as we continue to evaluate the impact COVID-19 has had on our state," Bray said. "Maintaining a balanced budget; offering liability protections to businesses, health care entities and individuals; and supporting our schools by fully funding students who are virtual due to COVID-19 are a few of the items on our agenda that we believe will be critical to supporting our communities across the state."
Bray says the state must give businesses and organizations the confidence they need to fully reopen operations.
Senate Bill 1, authored by State Sen. Mark Messmer (R-Jasper) would help protect businesses and individuals by giving them immunity from civil liability for damages if someone is exposed to COVID-19 on their property or during an activity they organized.
In addition, Bray added that transparency and public access will be a priority for his caucus, including as it pertains to redistricting.
"Though this session will be challenging, we pledge to commit ourselves to the same level of transparency that we have sought to achieve in 'normal' years, and that applies to the redistricting process as well," Bray said. "Redistricting is a duty assigned to the legislature by our state constitution, and we are committed to completing that task fairly and transparently."
The legislature reconvened Monday, Jan. 4.
RELATED STORIES
Gov. Holcomb Unveils 2021 Next Level Agenda
Indiana Chamber Outlines Top 5 Legislative Priorities For 2021 Legislative Session