This is only the second time ever the Indiana Chamber has endorsed a gubernatorial candidate.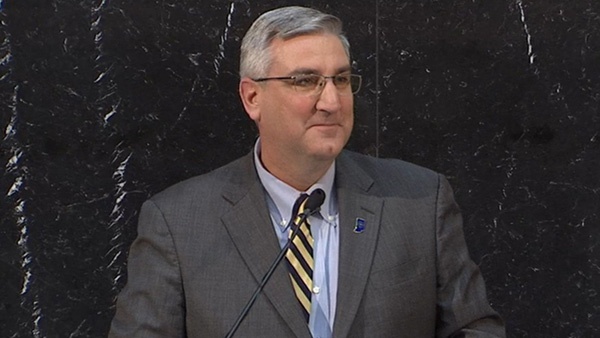 (Indianapolis, Ind.) - The Indiana Chamber of Commerce is making only its second-ever endorsement in the gubernatorial race, supporting Governor Eric Holcomb in his re-election bid. The first time the organization made the call was in 2008 for then-Governor Mitch Daniels.
"We only make endorsements in statewide races in special circumstances. Governor Holcomb's Next Level agenda has undeniably propelled the state forward in many meaningful ways. His leadership, drive and desire to bring people together to listen and learn have all been extraordinary," says Indiana Chamber President and CEO Kevin Brinegar.
"Immediately tackling the opioid crisis showed his compassion and determination – and set the tone. From the long-term infrastructure funding to the workforce emphasis to hate crimes legislation, these were longtime policy priorities that finally became reality the last few years. The difference-maker was Governor Holcomb and his willingness to stick his neck out and make a point that these issues truly matter."
Governor Holcomb says, "All Hoosiers deserve access to the gains of Indiana's growing economy – for themselves, their families and their futures. It's all about Putting People First.
"That's why we've worked to expand training opportunities, while also making sure Indiana's environment is primed for what's next. And we're just getting started. I'm honored to accept the Indiana Chamber's endorsement, and I'm excited to work with Hoosier job creators to make sure we keep delivering for Hoosiers."
The Indiana Chamber is encouraged by the Governor's motivation for the state's continued improvement.
"Other states are not standing still so we can't afford to lose our economic momentum, especially in key areas like technology, logistics and manufacturing. Governor Holcomb is always looking ahead to what we can do as a state to create more separation between us and the competition, which leads to positive effects for the business community and all Hoosiers," Brinegar concludes.
The Indiana Chamber's executive committee approved the endorsement, which was recommended by the organization's non-partisan political arm, Indiana Business for Responsive Government.