A South Dearborn High School graduate is among the new state troopers.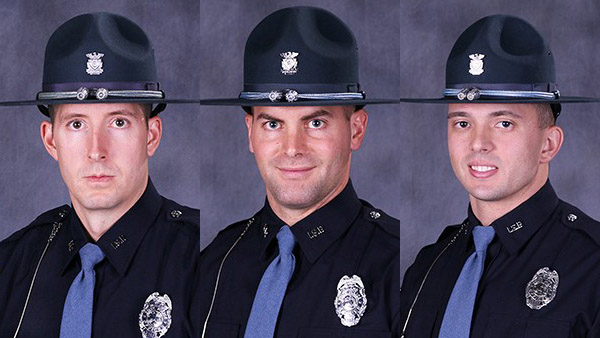 New Indiana State Police troopers (left to right) Robert Jonas, Blake Litmer, and Stephen Stoneking. Photos provided.
(Versailles, Ind.) - On Monday December 17, 2018, three new troopers reported for duty at the Indiana State Police Post in Versailles. The new troopers were among 54 new troopers reporting to their districts after graduating from the 78th Indiana State Police Recruit Academy on December 13, 2018. The Versailles District consists of ten counties in Southeast Indiana (Bartholomew, Dearborn, Decatur, Franklin, Jackson, Jefferson, Jennings, Ohio, Ripley, and Switzerland).
The new troopers completed over 1,000 hours of intense training during the 22 week academy. During the academy, recruits were given training in numerous subject areas including criminal and traffic law, vehicle accident investigations, emergency vehicle operations, defensive tactics, and firearm training in addition to numerous other subjects related to policing.
The new probationary troopers assigned to the Versailles Post are:
Robert N. Jonas, age 30, is a 2007 graduate of West Washington High School, Campbellsburg, Indiana. After high school, Jonas joined the United States Air Force where he served at Kadena Air Force Base in Okinawa, Japan and Nellis Air Force Base in Las Vegas, Nevada. Jonas currently serves with the Air National Guard in Louisville, Kentucky. Jonas and his wife live in Bartholomew County, Indiana.
Blake A. Litmer, age 29, is a 2008 graduate of North Decatur High School, Greensburg, Indiana. After high school, Litmer attended Wabash College where he graduated in 2012 with a degree in Rhetoric. After graduation, Litmer joined the Navy where he served from 2013 to 2017 in Mayport, Florida. He worked as a corrections officer with the Ripley County Sheriff's Department from 2017 until he was hired with the Indiana State Police. Litmer, along with his wife and son, reside in Ripley County, Indiana.
Stephen M. Stoneking, age 26, is a 2011 graduate of South Dearborn High School. After graduation, Stoneking worked at Honda Manufacturing in Greensburg, Indiana before being hired by the Indiana State Police. Stoneking currently resides in Dearborn County, Indiana.
Probationary Troopers Jonas, Litmer, and Stoneking will now undergo a three month training with a field training officer as part of the Indiana State Police FTO program. During the three months, they will be paired up with veteran troopers who will additionally train them in a real life environment. Upon successfully completing the field training program, they will receive their own issued police vehicle and begin solo patrols. All three new troopers will be assigned to zone 1 (Bartholomew/Jackson Counties) upon receiving their police vehicles.