The Hoosier Homestead Award is an annual tradition at the Indiana State Fair.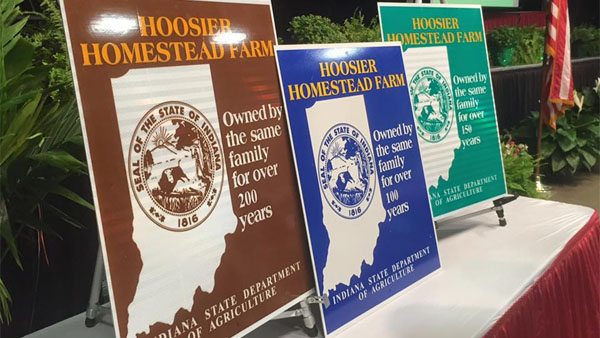 INDIANAPOLIS – Two local family farms have been recognized for their longevity.
On Wednesday, Lt. Governor Suzanne Crouch and Indiana State Department of Agriculture Director Bruce Kettler presented 106 Indiana family farms with Hoosier Homestead Awards.
The annual tradition at the Indiana State Fair recognizes farms that have been owned by the same family for more than 100 consecutive years, and consists of 20 acres or more, or produce more than $1,000 in agricultural products per years.
Locally, the following farms were recognized with the Centennial Award for 100 years or more.
Robert and Anna Frey, Dearborn County, 1917, Centennial
Ahrens, Ripley County, 1873, Centennial
Other awards include the Sesquicentennial Award for 150 years or Bicentennial Award for 200 years of ownership.
"Recognizing and engaging Indiana's historic farming families with Hoosier Homestead awards at the Indiana State Fair is an honor for me each year," said Crouch, who is Indiana's Secretary of Agriculture and Rural Development. "The hard work, consistency and longstanding values within these families is inspirational. These families and their farms are securing a strong future for many generations to come."
Since the program's inception in 1976, over 6,100 families have received a Hoosier Homestead Award.
See current and past award winners at https://www.in.gov/isda/programs-and-initiatives/hoosier-homestead/.