One of the victim's of the home invasion robbery says a gun was put to his head.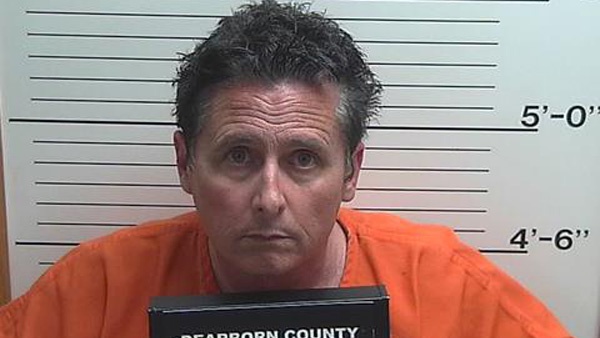 William Spencer Spaulding. Photo by Dearborn County Sheriff's Department.
(Lawrenceburg, Ind.) – William Spencer Spaulding orchestrated a home invasion robbery in an ill-advised attempt to recover thousands of dollars worth of stolen marijuana.
Now he is going to prison for 12 years.
The robbery committed by Spaulding and others in Greendale in April of 2017 was a shot at recovering thousands of dollars worth of marijuana and prescription pills his son, Brady Spaulding, had lost when it was stolen by somebody in northern Kentucky.
Brady had been fronted the drugs by a "dangerous" Asian gang.
William got involved, he said during his sentencing hearing last month, because he feared for his son's safety. He threatened another suspect, Steven Couch, to find the people who took the drugs.
Couch tracked one of the supposed drug thieves to the Greendale home. Spaulding brought along two guns as he, Couch and two other men planned the robbery.
Victim Nathan Heist says he had a gun pointed to his head by the robbers as they barged into the home he shared with his mother, sister, and two children. He says he managed to wrestle a gun away from one of the robbers as his daughter ran to call police, who soon arrived to stop the robbery in progress.
"They intended on killing us. If I wouldn't have took the gun, I have no doubt they would have killed us all," Heist said after walking out of Spaulding's sentencing hearing Thursday.
"I took the gun away from one of them and fought three of them while I was taking it away. When they had the gun to my temple is when I grabbed it."
Dearborn Superior Court II Judge Sally McLaughlin sent Spaulding away to prison for a period of 12 years. His time behind bars will be followed by four years on probation. He was given credit for time served in the Dearborn County Jail since his arrest last year.
"The heinous events occurred in the presence of women and young children," said McLaughlin in pronouncing the sentence.
The family who lived in the home moved out two weeks after the robbery because they were living in constant fear, the judge observed. The mobile home owner had to sell it at a loss as they moved out.
Brady Spaulding's situation with an Asian gang and his father's desire to help him were not mitigating circumstances for a lighter sentence. He had only placed another family in fear by robbing them, McLaughlin reasoned.
McLaughlin did cite as a mitigating circumstance William Spaulding's opioid addiction. Noting that Spaulding was taking 400 pills a month, the judge said it was unfortunate that his physician did not assess his addiction. She acknowledged the addiction may have factored into his poor decision making.
His lack of any criminal history, being college educated, and being employed also curried some favor with the judge.
William Spaulding had pleaded guilty to Armed Robbery (level 3 felony) and Conspiracy to Commit Burglary While Armed with a Deadly Weapon (level 4 felony) in October. The sentences on the two charges will be served concurrently, or at the same time, the judge decided.
Brady Spaulding was sentenced in October to 16 years with six years in prison and 10 years suspended to probation after pleading guilty to Conspiracy to Commit Armed Robbery (level 3 felony). Three other men involved in the home invasion – Steven Couch, Tyler Couch, and Cain Probst – received prison sentences of eight, six, and five years, respectively.
For Nathan Heist, the sentences are not enough.
"The others only got six to eight years. It's a joke," said Heist.
RELATED STORIES:
Sentencing Awaits Father Who Tried To Help His Son Recover 5 Pounds Of Stolen Marijuana
Police Break Up Home Invasion Robbery in Progress; Leads To Cache Of Drugs