Was William Spencer Spaulding a home invasion ringleader, or just a worried father helping his son avoid the mob's wrath? It depends who you ask.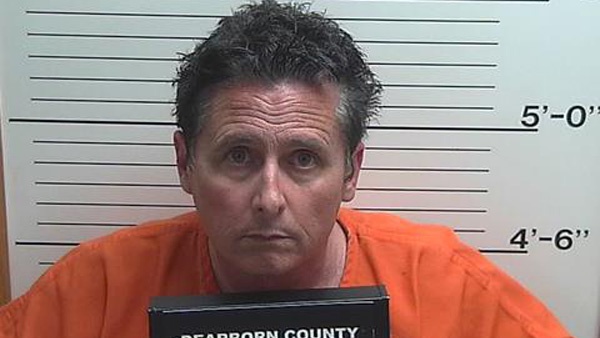 William Spencer Spaulding. Photo by Dearborn County Sheriff's Department.
(Lawrenceburg, Ind.) - Did a 54-year-old married father of two from Aurora orchestrate a home invasion robbery after somebody stole five pounds of marijuana belonging to his son?
Or was William Spencer Spaulding just a worried father trying to help his son, then got mixed up in a bad situation?
Those were the two pictures prosecutors and defense attorneys attempted to sell to a Dearborn County judge during a three-hour sentencing hearing Monday, November 26.
"There isn't a day goes by I don't' regret my actions," Spaulding testified on his own behalf from the witness stand. "I lost everything, hurt my family, and embarrassed everyone who cares about me. I will have to live with that the rest of my life."
Spaulding is accused of 20 counts including Burglary, Robbery While Armed with a Deadly Weapon, Robbery Resulting in Bodily Injury, Criminal Confinement, Dealing in a Controlled Substance and Dealing in Marijuana for his role in an April 2017 botched home invasion robbery in Greendale. He was among six people charged in connection with the robbery committed in a vain attempt to locate the stolen pot and pills.
Spaulding and prosecutors have reached a plea agreement under which he faces up to 16 years in prison. Chief Deputy Prosecutor Joe Kisor asked for the maximum penalty, mostly behind bars with perhaps some time suspended to probation. Defense attorney Brian Newcomb advocated for a sentence of five to eight years.
McLaughlin took the arguments and testimony she heard Tuesday under advisement. She set the pronouncement of Spaulding's sentence for Thursday, December 20.
The crime: a dangerous home invasion amid a frantic search for stolen drugs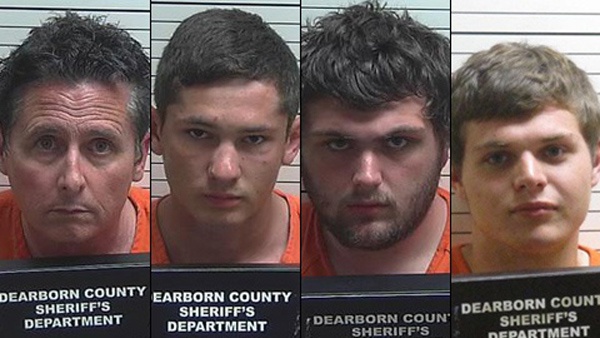 (Left to right) William Spaulding, Cain Probst, Steven Couch II, and Tyler Couch. Photos by Dearborn County Sheriff's Department.
Spencer Spaulding's life was spiraling downward in April of 2017. His wife was battling cancer, his printing equipment business was barely making it, and their finances were troubled. On top of that, he had a worsening addiction to prescription painkillers – a doctor was prescribing him 400 pills each month, Spencer told the judge.
With their son Brady and daughter Sidney out of the home having moved on to start their own lives, it seemed the couple's day-to-day were suddenly left with a big hole and not much hope.
Sidney had gone to college for journalism in-state at Indiana University. But Brady had opted to move to California to get into the business of growing and selling marijuana legally. Sidney told the court that Brady had struggled to find a path in life which made him happy, but seemed to be doing okay in California.
In fact, the legal marijuana business in California may have been going too well. When Brady's operation could not grow enough of the plant to keep up with demand from the pot dispensaries buying it, he turned to a "dangerous" Asian gang to front him a large quantity of marijuana.
As Brady was back in Indiana visiting his family, five pounds of the plant and prescription Xanax pills were trusted to the care of Burlington, Kentucky resident Steven Couch. As the large stash was hidden in Couch's home, he was robbed of it on April 29, 2017. They had an idea of at least one of the individuals responsible for the drug theft: Braxton Heist.
"Bro run up in there An get that shit hold em for ransom," Brady wrote in text messages to Couch which Dearborn County Special Crimes Unit detectives would later recover from Couch's phone.
"U do it personally don't make my dad get I trouble if he doesn't have too," Brady added.
"I'm breaking his hands with a bat," Couch replied.
Further texts showed Brady threatened Couch's life if he could not recover the stolen drugs or cover the value of the drugs.
Spencer soon learned of the predicament his son was in when Brady called him at 3:00 that morning. Brady asked him to see what had happened.
"I was very concerned for my son's safety at that moment. He was distraught and extremely upset," Spencer said.
Spencer left his home and met Couch in Burlington. Another man, Cain Probst, was there. Part of the shipment belonged to Probst, according to testimony.
Couch tracked Heist to a mobile home in Greendale later that morning. Spencer brought two guns as he met again with Couch and Probst, who were this time joined by Tyler Couch. Steven Couch was given one gun while Spencer kept the other on himself. The rendezvoused happened at the Greendale Walgreen's, not far from the home were Couch had found Heist.
According to a court affidavit, the men traveled in Spencer's BMW passenger car to the home on Craig Avenue. They barged into the home, with Couch and Spaulding allegedly armed with the guns. Probst had also brought his own gun.
Steven Couch quickly found Braxton Heist on a couch and allegedly pistol-whipped him in the face. Heist denied Couch's assertion that he stole the marijuana and pills.
Couch pointed his gun into Heist's chest, the victims told police.
Cain Probst allegedly threatened two other women present in the home, telling them to stay on the ground or risk being hurt.
Tyler Couch allegedly struck another man in the home with a baseball bat. A woman who lived in the mobile home with her four-month-old infant heard the arguing in the main room and came out of her bedroom to see what was happening when she was confronted by Tyler Couch, who then fought with her over a phone she had.
One victim would later tell police she heard Spaulding asking "Where's my $1500?" and "Where's my weed?"
Somebody managed to contact police, who arrived as the invaders were still there. Spencer, Probst, and the Couch brothers were all taken into custody.
Police obtained a search warrant for Spaulding's home. Inside they found 122 grams – or about a quarter pound – of marijuana in plastic bags and cookie jars and more than 175 Xanax and diazepam pills. Investigators also obtained what they believed to be a drug sales ledger.
Spaulding's wife, Melissa, was initially charged with drug dealing charges after the home search, however, her case was dismissed November 1.
Defense says suspect was only looking to help his son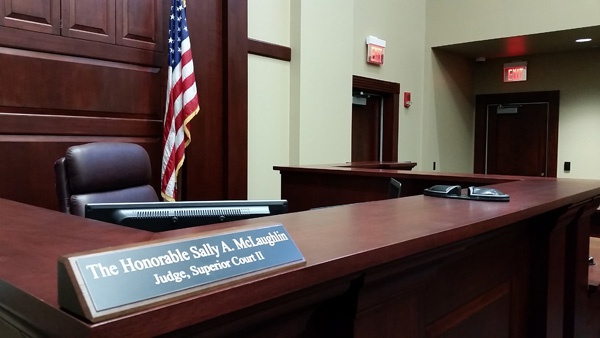 File photo.
During his at times emotional testimony in court, Spencer Spaulding said his actions that day were only those of a drug addict and a father looking to help his son.
"At that time I felt Brady's safety was in danger," he said.
Led through questioning by defense attorneys George Hoffman and Brian Newcomb, Spencer told the court that there have been many lies told by others accused in the case, and even the victims.
Admitting that he was armed with a gun in his back waistband, Spencer asserted that he never presented the weapon during the home invasion – an account varying from at least one of the women in the mobile home.
Spencer said he thought "Oh my God" when Steven Couch pointed a gun into the chest of Braxton Heist.
Spaulding's defense team also downplayed the episode as a home invasion. The defense played a short video of the confrontation between Spaulding, Couch, and Heist which had been recorded on a device owned by one of the victims. The video showed the men conversing briefly.
Kisor underscored that the video only showed less than a minute of the episode, which lasted at least five minutes. Four other videos of the confrontation had been deleted and were not recovered.
Spencer refuted allegations that he had knowledge of the shipment of marijuana and illegal drugs from Brady Spaulding's operation in California to Steven Couch in northern Kentucky. He admitted to receiving smaller shipments of marijuana from Brady, but he would only use that marijuana personally or share it with friends.
Spencer admitted to using marijuana for about 20 years.
"I understand why the detectives think I was a drug trafficker," he said.
Hoffman said Spaulding is not a mastermind shipping weed from California to Cincinnati without making money hand over fist. Detectives realized that after reviewing his finances, Hoffman shared.
His addiction to painkillers started after a car accident in 1997, but had begun to worsen in the past two to three years. He said he has overdosed three times.
Getting arrested, Spencer observed, is ironic because it may have saved his life from his painkiller addiction.
"I was pissed off when I was first incarcerated at the entire system," Spencer testified. "I eventually realized there is only one person to be pissed off at and that is myself. There are no excuses for my actions."
About 15 family and friends of Spaulding were in the courtroom in a show of support for him. In addition to Sidney's testimony about her father, Spencer's brother Todd Spaulding also addressed the court.
What he learned of that day in 2017 was "not consistent with the brother I've known my entire life." He long suspected Spencer had a drug addiction, but was shocked to learn the depth of it.
The case has brought the family closer, Todd Spaulding said. Each evening at dinner, his family says a special prayer for Spencer.
Sidney Spaulding said the situation her parents have ended up in and her life at college and now as a professional marketer has made her feel like she has two separate lives. She spoke fondly of her childhood and her relationship with her father.
"They gave me a great life and a great childhood. He was either coaching or at every sporting event. He was never not there," she said.
The defense also brought in Steve Brock, a sentencing and litigation consultant with Brock Sentencing Evaluations. Brock testified about his review of the case. He believes the judge should strongly consider a mitigating factor that as a 54-year-old man, Spaulding has no prior criminal history.
"Compared to the average inmate the Indiana Department of Corrections gets, he's as good as it gets," said Brock.
Prosecutors call Spaulding the ringleader
Kisor said Spaulding was not just a chauffeur for Probst and the Couches on the day of the home invasion. He was the ringleader.
"There is no disputing that from the mouth of Spencer Spaulding," Kisor said.
Men, three of them armed with a gun, forcing their way into a home was a situation with "great propensity for death or at least bodily injury."
Kisor read text messages which had been sent from Spencer Spaulding to Steven Couch. The messages made threats against the lives of Couch and those who stole the marijuana. Spaulding dismissed those texts as bravado.
"It wasn't just bravado. It was a serious threat and home invasion," said Kisor.
Kisor also jumped on Spencer's statement that he was not aware that women and children were in the home prior to barging in. The proper thing to do, Kisor argued, would have been to not attempt the robbery regardless of who was around. He could have pursued less dangerous avenues, such as attempting to pay for the stolen drugs and ensuring Brady's safety by asking for money from relatives.
A Special Crimes Unit detective testifying about his forensic analysis of electronics tied to the home invasion investigation said photos of marijuana, scales, and cash were sent by text message from Spencer's phone to others.
During his time in jail, Spencer has been accused of attempting to bribe a jail officer to supply him a spork eating utensil, said Kisor.
Others involved already sentenced
Spencer Spaulding will be the final suspect in the case to sentenced when he goes back to court five days before Christmas.
Although he was not physically there for the home invasion, Brady Spaulding pleaded guilty to Conspiracy to Commit Armed Robbery (level 3 felony) on October 4. Ten other charges against him were dismissed in accordance with he plea agreement. McLaughlin sentenced him to 16 years with six years in prison and 10 years suspended to probation.
Steven Couch has received the longest sentence of 20 years after pleading guilty October 11 to Conspiracy to Commit Burglary While Armed with a Deadly Weapon (level 2 felony). Eight years will be served behind bars and 12 years are suspended to probation.
Tyler Couch pleaded guilty last August to Conspiracy to Commit Criminal Confinement While Armed with a Deadly Weapon (level 3 felony), for which he was sentenced to six years in prison, followed by 10 years on probation.
Cain Probst's sentence measures 14 years: five in prison and nine on probation. He pleaded to Conspiracy to Commit Armed Robbery (level 3 felony) in August.
Braxton Heist, one of the men believed to be involved with the theft of Brady Spaulding's marijuana, was also charged. He pleaded guilty to Possession of Marijuana (class B misdemeanor) last June and was sentenced to 180 days and fined $385.
RELATED STORIES:
Police Break Up Home Invasion Robbery in Progress; Leads To Cache Of Drugs