He might be up there awhile, but we are certainly rooting for our hometown Bengals to get a win sooner rather than later.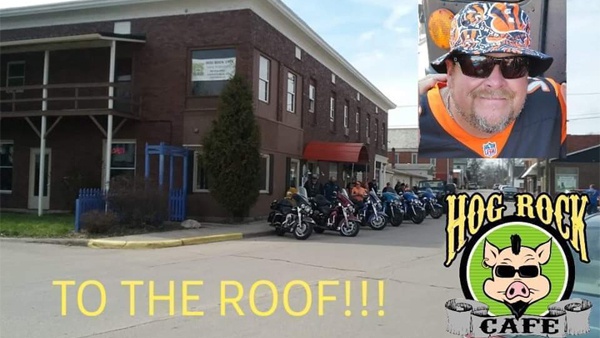 Photo by Scott Benjamin.
(Milan, Ind.) - A Milan business owner has taken to the roof and he's not coming down until the Cincinnati Bengals win a game.
Jeff Lanham, owner of Hog Rock Café in Milan, has had enough.
Following the Bengals Monday night blowout loss to the Pittsburgh Steelers on September 30, Lanham vowed to go to the roof of Hog Rock Café if the Bengals did not defeat the Arizona Cardinals.
The Bengals played well this past Sunday, but ultimately fell 26-23 to the Cardinals, prompting Lanham to the roof.
Lanham's wife, Chrissy, says Jeff is mimicking the stunt former WEBN sports broadcaster "Wildman Walker" pulled in 1991 when he stayed up on a billboard for 61 days before the Bengals won a game.
Currently, Lanham is sleeping in a tent that is covered by a pop-up tent. He also has friends and family bringing him food.
As for the Bengals, their next game comes this Sunday in Baltimore. The Ravens have opened as a 10.5-point favorite, meaning Lanham could be up on the roof of Hog Rock Cafe at least another week, if not longer.