The historic home will offer a Christmas Open House and Downton Abbey Holiday Teas this winter.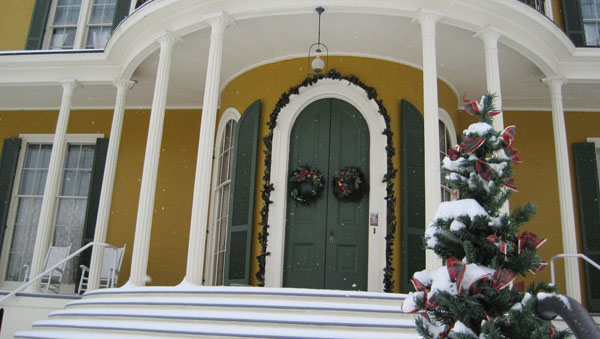 (Aurora, Ind.) - This holiday season the Hillforest Victorian House Museum will once again take on the nostalgic feeling of Christmas past.
The 1855 home will be decorated in traditional holiday greenery and decor.
Hillforest's Italianate architecture and rich history radiates from the building. It was home to industrialist and financier Thomas Gaff and his family from 1855 to 1926.
Hillforest has been open as a house museum since 1956, offering visitors a glimpse of the lifestyle of a wealthy family living in the Victoria era and was designated as a National Historic Landmark in 1992.
On Sunday, December 8, Hillforest will host its annual Victorian Christmas Open House from 1 - 5 PM, which will feature costumed docents, holiday refreshments, and periodic entertainment. Admission cost is $10 for ages 14 and up, $4 for students 7-13, and children 6 and under are free.
Hillforest is offering Downton Abbey fans a special experience with the Return of the Downton Abbey Holiday Teas. The teas are scheduled December 3, 5, and 7 beginning at 1 PM. This event includes a tour of the museum and Downton inspired three-course tea served in the elegant Hillforest parlors. The cost foe the event is $30.00 for Hillforest members and $35.00 for non-members.
You can visit www.hillforest.org to place reservation or by calling 812-926-0087.