The day-long program included 13 middle, junior and high school students from schools in Eagle Country.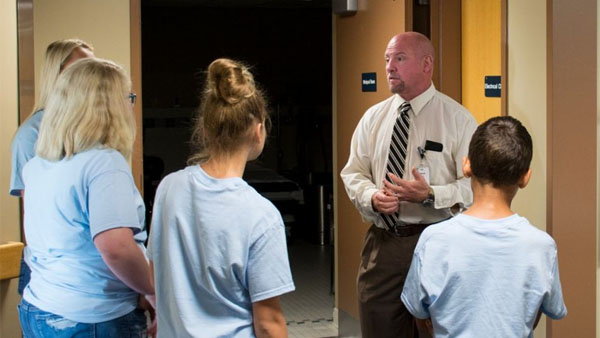 Ed Brush, MSPT/ATC, Highpoint Health Director of Rehabilitation Services, leads a tour of middle, junior and senior high school students through the Highpoint Health Physical Therapy Department. The students are part of the Investigation: Health Careers and You program. Photo provided.
(Lawrenceburg, Ind.) - Students in grades seven through twelve learned more about potential healthcare careers during a new program offered by Highpoint Health, Ivy Tech Community College-Riverfront Campus and the Purdue Extension 4-H Career Readiness Spark Club.
The day-long program, entitled Investigation: Health Careers and You, introduced 13 middle, junior and high school students to the many career opportunities available at the hospital. Students from Greendale Middle School; Lawrenceburg High School; Rising Sun Middle School; South Dearborn High School; South Ripley Junior High School and South Ripley High School spent the morning and early afternoon at Highpoint Health and late afternoon at Ivy Tech.
At Highpoint Health, students had the opportunity to meet its President/CEO, Michael W. Schwebler, and its Chief Nursing Officer, Angela Scudder, MSN, CENP. A tour of the hospital followed with visits to the Emergency Department, Laboratory, Occupational and Physical Therapies, Pharmacy, Radiology/Imaging and Respiratory Therapy.
During the tour, students gained insight into the various careers and hospital departments through brief presentations from Highpoint Health staff Ed Brush, MSPT/ATC, Highpoint Health Director of Rehabilitation Services; Eva Carr, Human Resources Manager; Jennifer Copple, Pharm.D., Pharmacy Manager; Belinda Eldridge, RN, Nursing Development and Recruitment Coordinator; Keith Harnist, RN, BSN, CCRN, Intensive Care Unit Manager; Patty Vaught, Pharmacy Technician II; and Dawn Walcott, RN, BSN, Director of Patient Care Services.
The students then convened to the conference area for lunch and a question-and-answer session with Highpoint Health staff Nate Burkhardt, RRT, Respiratory Care Practitioner; Mary Daugherty, OTRL, Director of Occupational Therapy; Michelle Dilts, CNA, Birthing Center Nursing Assistant; Ryan Fohl, MT (ASCP), BS, Laboratory Medical Technologist; Danyelle Kurtz, Pulmonary and Critical Care Medicine Medical Assistant; Sheri Swaisgood, FNP-C, Nurse Practitioner; Kim Swanson, RN, Surgical Floor Manager; Christopher Walcott, M.D., Family Medicine Practitioner; Emily Wyatt, RT (R), Imaging Manager; and Josh Yatsko, Pharm.D., Pharmacist.
Later in the afternoon the students headed to Ivy Tech where they took part in demonstrations on mannequins in the nursing classroom Simulation Lab. They were also shown various laboratory processes and medical assisting procedures. All the students were provided T-shirts, courtesy of Purdue Extension Ohio County and Dearborn County.
"With the students getting first-hand, learning experience from the professionals at Highpoint Health and Ivy Tech Community College, we hope that they will continue their educational path toward a degree in the healthcare field. We are thrilled to collaborate with Purdue Extension and Ivy Tech Community College as we look to the future," stated Mrs. Eldridge. "Thank you to everyone who participated and helped make this a great event!"