Formerly known as the Health-A-Fair, this event has been going on for nearly four decades.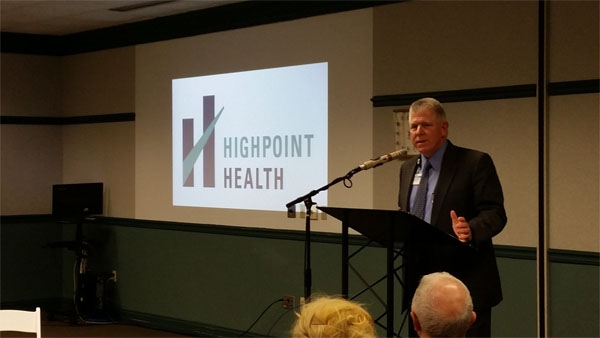 Highpoint Health CEO Michael Schwebler. File photo.
(Lawrenceburg, Ind.) - Highpoint Health will host its new Living Well Health Fair (formerly Health-A-Fair) on Saturday, March 2, from 7:00 a.m. to noon at the hospital in Lawrenceburg. This is the 38th consecutive year that the hospital has presented a public health fair.
On Saturday, April 13, from 8:00 until 11:00 a.m., Highpoint Health will offer a second wellness event, the Living Well Health Fair at the Miami Center, in Cleves, Ohio, which will take place at the Miami Center, 8 North Miami Avenue, on the west side of the building which houses the public library.
Both Living Well Health Fairs offer a wide range of health screenings and exhibits for individuals 18 years of age and older. Some of the free health screenings offered at the hospital in Lawrenceburg include pulmonary function, blood oxygen saturation, blood pressure, height/weight and foot exams. Free colorectal cancer screening kits will be available for home use.
Three optional blood screenings, hemoglobin A1c (HbA1c), prostate specific antigen (PSA) and a blood chemistry analysis, will also be available for a minimal fee.
Hemoglobin A1c, used to measure the average level of glucose in the blood over an 8-12 week period, is commonly used to aid in the management of known diabetic patients. The screening is also useful as a tool to help diagnose prediabetes, a risk factor for diabetes. Diagnosis of prediabetes with appropriate lifestyle and dietary changes may reduce the likelihood of full blown diabetes developing. The fee for this screening is $30.
Men can elect to have blood drawn for a screening for prostate cancer, known as the prostate specific antigen screening. The fee for the PSA is $10 per person.
A blood chemistry analysis, including an HDL/LDL cholesterol ratio, will also be offered. The fee for this screening is $30. For the most accurate results, a 12 hour fast immediately before the blood chemistry analysis is recommended. Fasting is usually described as nothing to eat or drink except black coffee, plain tea, water and necessary medications. People with diabetes or those who are under a health professional's care should consult their physician/nurse practitioner before fasting. Those who require food or beverages other than water to be taken with their medications during the fasting period may wish to consult their personal physician/nurse practitioner.
Individuals may choose to participate in one or more of the screenings. Blood can be drawn for all screenings at the same time. Fasting is not required for participation in the HbA1C or PSA screenings.
Those wishing to have blood drawn for the HbA1c, PSA and/or blood chemistry analysis must provide the name and address of their personal physician/nurse practitioner. This information must be provided at the time of registration, whether it is at a pre-registration site or at the hospital or Miami Center on the day of the fair. Results of the blood screenings will be mailed to both the participant and their physician/nurse practitioner for follow-up.
Participants are strongly encouraged to contact their personal physician/nurse practitioner regarding all of their screening results.
A variety of Highpoint Health departments and services are scheduled to participate in the Living Well Health Fair on March 2, including the Auxiliary, Behavioral Health, Breast Care Center, Cardiac and Pulmonary Rehabilitation, Medical Stabilization, Patient Care Services, the Patient & Family Advisory Council and the Pharmacy.
Additional exhibitors include the Alzheimer's Support Group of Southeast Indiana; American Cancer Society; Dr. Ronald Auer - OrthoCincy; Beacon Orthopaedics & Sports Medicine; Dr. Nicole Rahn, D.P.M.- Cincinnati Foot & Ankle Care; Community Mental Health Center; Dearborn County Health Department; Lawrenceburg Public Library District; LifeCenter Organ Donor Network; LifeTime Resources; Mercy Heart Institute; Pregnancy Care Center of Southeast Indiana; Purdue Extension-Dearborn County and Therapy Pets of Greater Cincinnati.
Sponsored by Highpoint Health and the Miami Center, April's Living Well Health Fair features many of the same screenings and exhibits found at the hospital event, including the blood chemistry analysis, HbA1c and the prostate specific antigen screening.
All screening results obtained at either fair should be used as supplemental information by the participant. They do not replace and should not be considered a substitute for an examination by a physician/nurse practitioner. Participants are encouraged to share all screening results with their personal physician/nurse practitioner.
Registration is available at the door at both locations. Pre-registration for the fair at the hospital is available in the Highpoint Health main lobby from Monday, February 25, through Thursday, February 28, from 9:00 a.m. to 6:00 p.m., and on Friday, March 1, from 9:00 a.m. to 1:00 p.m. Registration is also available at many Highpoint Health Physician Partners offices.
If you would like additional information on either Living Well Health Fair location, please call the Highpoint Health Community Relations Department at 812/537-8190 or 800/676-5572, ext. 8190, or visit www.myHPH.org.