You will be able to drop off your shoebox at one of two locations from November 18 - 25.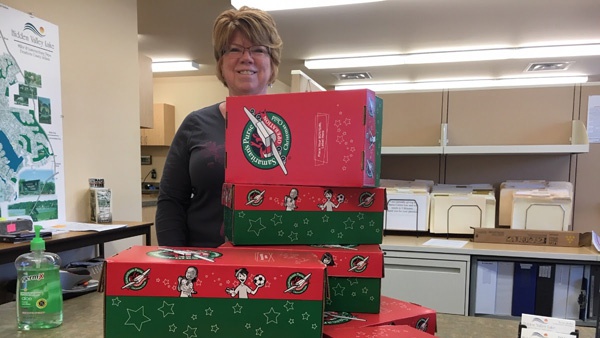 Photo provided.
(Lawrenceburg, Ind.) - Hidden Valley Lake is teaming up with Samaritan's Purse for the holiday season.
Operation Christmas Child is a Samaritan's Purse international relief program that focuses on providing shoeboxes filled with small toys, hygiene items, and school supplies for children in need around the world.
A drop off location will be available at Hidden Valley POA, November 18 - 22. The barrel will be located inside the POA office and inside the Hidden Valley Golf Clubhouse during their business office hours, Monday - Thursday 7:30 AM - 5:30 PM, and 8 AM - 12 PM on Friday.
If you cannot make it to these dates, you can drop off at the Dearborn Hills United Methodist Church on November 18 - 22 from 5 - 8 PM, November 23 from 10 AM - 2 PM, November 24 from 12 - 2 PM, and November 25 from 8 - 10 AM.
Participating in the cause is relatively easy. In six easy steps, you will pick a shoebox, fill it with appropriate items for a young boy/girl, send it out and watch for it to be delivered through a "Follow Your Box" label.
You can stop in the POA office to pick up a shoebox. Even though they are easy to assemble, someone will be able to give you some help if needed.
A reminder to not pack candy, food, liquid items or toothpaste due to Customs regulations.
You can find more information on the Samaritan's Purse website on what to pack in your shoebox or how to pack a shoebox.