This year is the 20th anniversary of the 9/11 attacks.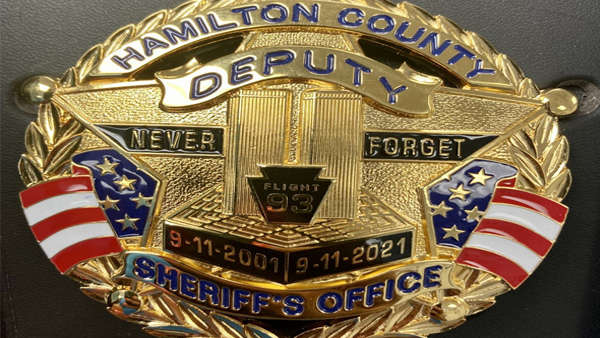 Photo provided.
(Hamilton County, Oh.) – September 11, 2001 is a day many Americans will never forget.
Four coordinated terrorist attacks left 2,996 dead and approximately 25,000 more injured after planes crashed into the World Trade Center in New York, The Pentagon in Virginia, and a field in Pennsylvania.
Hamilton County Sheriff Charmain McGuffey announced Tuesday that deputies will wear a commemorative badge in honor of the 20th anniversary of the 9/11 attacks.
The commemorative badge will be seen on deputies' uniforms beginning September 1.
Local business leaders are offering support through funding to help offset the cost of the badges for HCSO deputies.
As part of the commemoration of the 20th anniversary of 9/11, HCSO will make a $10,000 donation to Joseph House.
The Cincinnati-based organization serves veterans when they need it the most, especially those battling addictions.