The gathering space will be built on the Courthouse Square where two blighted properties once stood.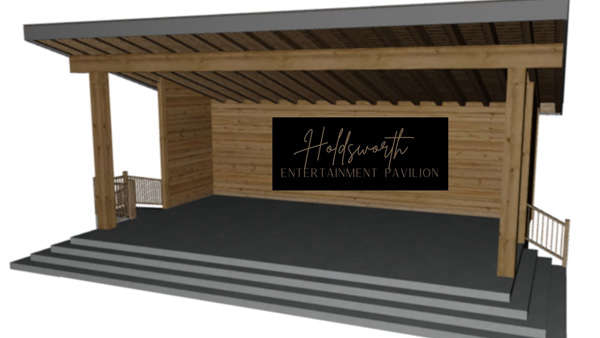 (Versailles, Ind.) - After a successful crowdfunding campaign, a new music and entertainment space will be built in Versailles.
A groundbreaking for the future Holdsworth Entertainment Pavilion was held on July 22.
Three years ago, Versailles Main Street conducted an "I Wish This Was Campaign" to gather feedback from the community. The campaign focused on what community members would like to see in the vacant spaces and buildings around town.
A place for live music, a splash pad, green space, playground, murals, seating, and picnic tables were among the things the community wanted.
In May, Lt. Governor Suzanne Crouch and the Indiana Housing and Community Development Authority launched a $50,000 crowdfunding campaign as part of the CreatINg Places program.
The campaign tasked Versailles Main Street with raising $50,000 to receive a matching grant from the IHCDA.
The crowdfunded was a great success with over $60,000 raised.
Now the focus turns to constructing the Holdsworth Entertainment Pavilion, which is named after Gary and Patsy Holdsworth for their years of dedication to the arts in the community. Both were long-time music directors at South Ripley Schools.
The Holdsworth Entertainment Pavilion will feature a 20x36 foot elevated pavilion, electricity and lighting for the stage area, and signage. Other features include a nearby mural, public restrooms, bike share rack, picnic tables and benches.
For more information, visit Projects | Holdsworth Entertainment Pavilion | Patronicity.
RELATED STORIES
Crowdfunding Campaign Goal Met for Holdsworth Entertainment Pavilion
Crowdfunding Campaign Launched to Help Bring Entertainment Pavilion to Versailles