It was a busy Thursday for the governor.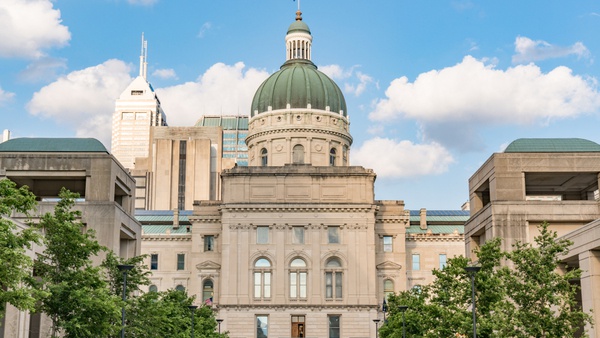 Shutterstock photo.
(Indianapolis, Ind.) – It was a busy Thursday for Indiana Governor Eric Holcomb.
The governor signed 23 bills into law, including:
House Bill 1006
Requires the Indiana law enforcement training board to establish mandatory training in de-escalation as part of the use-of-force curriculum and requires de-escalation training to be provided as part of pre-basic training, mandatory in-service training and the executive training program. The law also defines "chokehold" and prohibits the use of the maneuver under certain circumstances.
Senate Bill 2
This bill deals with funding for virtual instruction in public schools. The law establishes a definition of "virtual instruction" for purposes of determining a school corporations' basic tuition support using the 2020 fall count and 2021 spring count of average daily membership.
Senate Bill 101
Amends requirements regarding the development of a student's graduation plan. Provides that a student who is at least 17 years of age has full legal capacity to enter into a contract for a next generation Hoosier educators scholarship. Provides that the requirement that a postsecondary credit bearing proprietary educational institution that ceases operation submit student records to the Indiana archives and records administration applies regardless of any outstanding debts owed to the institution. Repeals a provision that requires a student to develop an initial graduation plan in grade 6.
House Bill 1039
Provides that the surviving spouse of a Purple Heart recipient may retain the Purple Heart specialty license plate as long as the surviving spouse does not remarry. Specifies that the surviving spouse is not eligible to receive a modified disability registration plate. Establishes the Armed Forces Expeditionary Medal specialty license plate.
Senate Bill 63
Permits, under certain circumstances, an offender committed to the department of correction to be held within a treatment facility operated by the department for not more than 14 days beyond the offender's mandatory release date if the offender consents, or a court has ordered the offender to be committed to a treatment setting outside the department.
For more information on the bills Gov. Holcomb signed into law on Thursday, visit Governor: 2021 Bill Watch (in.gov).