Laurel Police K9 Officer Blade died in Clint Ellis' care in 2007.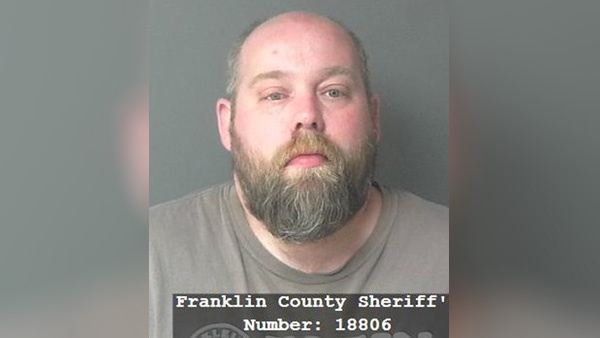 (Brookville, Ind.) - A former reserve police officer has pleaded guilty to animal cruelty for causing the death of his police K9 partner.
Clint Ellis, 35, pleaded guilty to Animal Cruelty (class A misdemeanor) in Franklin County court February 5. A charge of Striking or Interfering with a Law Enforcement Officer (level 6 felony) was dismissed as part of a plea agreement.
He has been sentenced to 54 days in jail and 311 days on probation. Ellis must also repay the Town of Laurel $11,000 in restitution for Blade's acquisition and training.
Ellis was the Laurel Police Department's handler of K9 officer Blade, gaining oversight of the dog in August of 2017. The police dog died the following December.
A necropsy determined Blade had likely starved to death, but also found a "foreign body" which made determining an exact cause of death difficult.
"The State has concluded that the precise cause of the animal's death cannot be proven beyond a reasonable doubt," Franklin County Prosecutor Chris Huerkamp said in a news release. "Therefore, the State would be unable to meet its burden of proof on each essential element of the charge."
Huerkamp added there was zero doubt Ellis neglected and mistreated the dog.
Explaining why Ellis was not convicted of a felony, the prosecutor said the misdemeanor charge applied to the circumstances of this case.
"In order to be a felony in Indiana, a charge of Animal Cruelty requires that the perpetrator have a prior conviction for the same offense," said Huerkamp.
Huerkamp credited the case's lead investigator, Indiana Conservation Officer Corey Norrod, for the work he did.
"From the time he received the initial report, Officer Norrod pursued every possible investigatory angle and chased down every lead," Huerkamp said. "It would have been extremely difficult to pursue any charges in this ugly episode if not for his efforts. From my experience, this is the kind of dedication and diligence that I have come to expect from Officer Norrod, and we are fortunate to have him working in Franklin County."
Ellis pleaded guilty last December in a separate case in Franklin County. He was accused of stealing a handgun during the execution of a search warrant and giving it away as a gift. Indiana State Police also accused him of stealing $2,500 from the Town of Laurel, that money which was supposed to be used in a drug investigation.
He pleaded to two counts of Theft (level 6 felony) and was sentenced to one year, 180 days with one year suspended to probation.
RELATED STORIES:
Ex-Laurel Cop Accused Of Causing Police Dog's Death
Laurel Reserve Officer Accused Of Stealing, Gifting Gun