The $32 million building starting welcoming residents in April.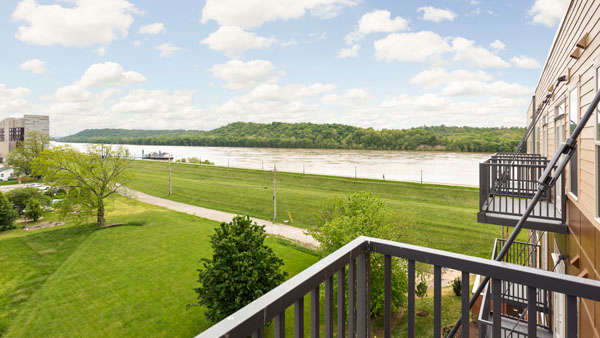 The view from a balcony at the Whiskey River Apartments. Photo provided.
(Lawrenceburg, Ind.) - Flaherty & Collins Properties has announced the grand opening of Whiskey River, a $32 million development that brings 150 high-end apartments to the banks of the Ohio River.
A grand opening ceremony and open house will be held at 500 W. High Street in Lawrenceburg on Friday, July 22, 2022, from 2-6pm EDT.
"As an award winning, accessible tri-state city with prominent amenities and many exciting economic initiatives unfolding, the City of Lawrenceburg is laser focused for growth as a 'City on the Rise,' says Lawrenceburg Mayor Kelly Mollaun. "The Whiskey River Apartments public-private partnership between the City of Lawrenceburg, Lawrenceburg Redevelopment Commission and Flaherty & Collins Properties is the collaborative result of strategic long-term planning and property development that we have all been waiting for."
The development features many unique resort-style amenities such as a pool, lounge area, grills, a co-working lounge, and Sky Deck. Whiskey River also includes a fitness center, a bark park, dog spa, bike storage with bike wash and repair station. Additionally, the project includes public green space. Apartments will feature modern finishes, LED lighting, quartz countertops, stainless steel appliances, washer and dryer and private balconies on most units.
"We are looking forward to showing the community what we've built here with Whiskey River," said Deron Kintner, General Counsel and lead project developer for Flaherty & Collins Properties. "Our belief in this project is already backed up by a record-fast lease-up, with more than 80 percent of the units leased. The City of Lawrenceburg is a great partner in this project."
"Whiskey River will bring new residents to the area and with strong disposable income to make employee recruiting easier and help support the local business," Kintner adds. "These new residences will help drive the demand for further development in Lawrenceburg, creating an estimated $25,000,000 in economic impact."
The development represents a capital investment of approximately $32,000,000, with Busey Bank serving as construction lender.
Flaherty & Collins Construction served as the General Contractor. American Structurepoint was the project architect and engineering firm. Flaherty & Collins Properties manages the community.
The project, at 179,410 square feet, broke ground in October of 2020, with first residents moving in April of this year.