Six local war heroes will be honored on Stage 1 around 6:05 p.m.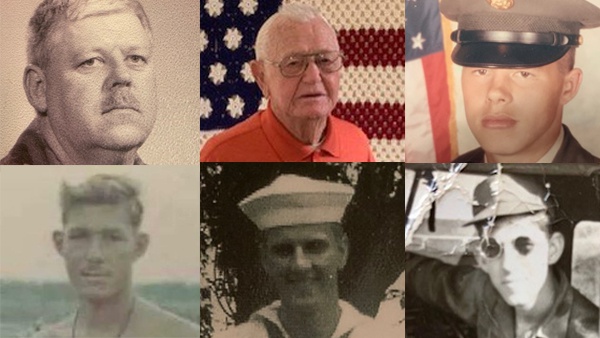 Top row (left to right): Mike LaFollette, Gerald "Bush" White and Pat Ferrari. Bottom row: Dave Teke, Seb Walston and BIll Parks. Photos provided.
(Aurora, Ind.) – Six local military Veterans will be honored Thursday night in downtown Aurora.
The 111th Aurora Farmers Fair is more than just rides, games and food, it's also about community and recognizing those who have served in the military.
In what has become an annual event at the fair, the War Veterans Presentation will take place on Stage 1 at 6:05 p.m. Thursday.
Mike LaFollette, Gerald "Bush" White, Pat Ferrari, Dave Teke, Seb Walston and Bill Parks are this year's honorees. Each will receive a Quilt of Valor.
Bio's for each brave man have been provided by P.G. Gentrup.
Mike LaFollette - was born in Batesville, IN on September 21, 1950, the son of LaVern and Myrtle LaFollette. He has one sister, Diana (Donald) Zimmerman and one brother, Kenny (Caroline) LaFollette. Mike started school at the old Central School in Lawrenceburg and graduated from the school on Short Street in 1964 and from the Lawrenceburg Consolidated High School (LCHS) in 1968. Shortly after graduating, he enlisted in the U.S. Army for three years. He felt obligated to serve our great country as his dad had done in World War II. He chose the MOS of Armored Reconnaissance Specialist (HD), more commonly called a Scout. He was sent to Ft. Benning, GA the "Home of the Infantry" for eight weeks of basic training. He remained there for some speciality training and then was sent to Ft. Knox, KY. This was the "Home of the Armor" and his AIT started and he was assigned to Alpha Troop, 6th Recon Squadron, 2nd Training Brigade. He was trained as an Armored Scout for eight weeks. He also received several days of specialized training for Vietnam Orientation to prepare him for his overseas duty. In December of 1969, they received their orders indicating they were being ordered to serve a tour of duty in Vietnam. He received a short leave home and then had to fly to Oakland, CA to report for deployment. He flew from Travis Air Force Base headed to Vietnam. Mike arrived in Vietnam on January 5, 1969 and spent a few days at the Combat Center in Chu Lai. He joined Echo Troop, 1st Squadron, 1st Cavalry, 11th Infantry Brigade, 23rd Infantry Division (Americal), where he remained for twelve months. Mike's unit was located near the small village of Duc Pho. The firebase where they called home was LZ Bronco and the home of the 11th Infantry Brigade "Jungle Warriors". The 11th Infantry Brigade had initially been deployed to Vietnam from Schofield Barracks in Hawaii in 1967. Their mission was to provide combat support for the five Infantry Battalions within the 11th Infantry Brigade. Mike was a highly decorated and combat wounded warrior and received several medals, including three Purple Hearts for injuries sustained from enemy fire. When he returned to the USA he returned to Ft. Knox, KY where he was assigned to Headquarters Co., 5th Battalion, 33rd Armor, 194th Training Brigade. They moved to Ft. Carson, CO but Mike was getting close to his discharge date so he remained at Ft. Knox. He joined the Headquarters Co., 4th Battalion, 70th Armor, 194th Training Brigade until his discharge in August 1971. They trained newly commissioned officers. On June 24, 1972, Mike married Debbie Gridley from Rising Sun. They have two sons, Jared (Misty) and their three children, who reside in Evansville. Son, Matthew (Misty too), have three children and reside in Rising Sun. In 1980, Mike decided to re-enter the military and joined the Indiana Army National Guard. He was assigned to the Combat Support Co., 1st Battalion, 151st Infantry, 4th Infantry Brigade, 38th Infantry Division in Madison, IN. He was in the Scout Platoon. He spent 17 years as a Scout and held the positions of, Squad Leader, Section Leader and Platoon Sergeant. He also served as Platoon Leader when no officer was present. His military career was very important to him and a wonderful experience, thanks to the sacrifices and support of his family and they had to endure a lot over the next twenty two years. Mike felt that his combat knowledge was a great asset and he wanted to pass it on to the new troops. That's why in 1980 he joined and feels he helped prepare many soldiers for combat experiences. Many of them later were deployed to Iraq and Afghanistan. He saw the passion, loyalty and drive they had for their responsibilities as a soldier, and to our nation. Mike is very proud and encouraged by what he sees in those serving today. Their commitment to be the next generation of those who want to make a difference. They will teach their soldiers the skills they need to help them survive at a different time in history, in a different war, with so many different rules of engagement. May God Bless and keep them all safe. Mike retired from the military in Oct. 2001 with 25 years of combined service with the Army and National Guard. Mike retired from the I&M Tanners Creek Power Plant in 2010. Today, he is very active with the KWVA Color Guard, is a Life Member of the Veitnam Verterans Chapter 71, named after his schoolmate, Lary D. Fogle from Lawrenceburg, is a member of the Disabled American Veterans Chapter 75 and member of the Rising Sun American Legion Post 59 and the Color Guard. He is very active and works with Jerry Bondurant, Ron Spurock and PG Gentrup to get the word out to the school children and others to make sure our veterans are remembered, cared for and treated properly. He is one who commands RESPECT when it comes ot our country and our American Flag. He is proud of his Color Guard duties too and knows how important it is to pay that Final Respect to a departed Veteran. Mike has been to Washington, DC on a trip with local veterans and was one of the four wreath presenters at the Tomb of the Unknown Soldier. Mike and Debbie reside on Salem Ridge outside of Rising Sun. Thank you Mike for your faithful and dedicated service to the USA and you have set the bar high for soldiers who have followed you. Your dedication has played an important part in training soldiers and undoubtedly helped them remain safe under harsh conditions. Make God Bless you and the United States of America.
Gerald "Bush" White - was born on November 16, 1924 in Switzerland County, Indiana to Matthew T. and Abbie (Lothridge) White. Bush was one of nine children. Brothers: Bill, Jess, Jim, Dick and Bobby. Sisters: Wanda, Helen and Katherine. He married Frances "Fannie" Poling on June 25, 1950 and they have one daughter, Diane, and three sons, Ed, Kenny and Bobby. There are 15 grandchildren and several great-grandchildren. Bush served in the United States Army from 1944- 1946 and attained the rank of Tech 5. He served with Co. I, 41st Armored Infantry, 2nd Division. He served in the Ardennes, Rhineland and Central Europe and participated in the Battle of the Bulge. Bush was in the 3rd wave at Omaha Beach on D-Day, June 6, 1944. It's a day he will never forget. One of his darkest memories is of seeing the concentration camp at Dachau later in the war. His medals include: Combat Infantryman's Badge, WWII Occupation Medal, World War II Victory Medal, Army Good Conduct Medal, Europe-Africa-Middle East (EAME) Medal with 3 bronze stars, Bronze Star Medal and the Purple Heart Medal for wounds sustained in battle at Puffendorf, Germany. He also earned the Expert Rifle Badge. Bush's wife, Fanny, passed away in 2015 after 65 years of marriage. Bush has been honored by the Cincinnati Reds as a Hometown Hero, was on the field on opening day and honored as a Purple Heart Recipient and honored on the field at Great American Ball Park on another occasion as a World War II Veteran on the Anniversary of VJ Day and the end of WWII. He has been presented a Quilt of Valor for his service and also a beautiful American Flag afghan. He has been recognized at many events for Veterans Day and other holidays. Bush is proud of his service to our great nation and very proud to be an American Veteran and Patriot.
Pat Ferrari - was born in Cincinnati on May 26, 1952 to David and Caroline Ferry. He has five brothers: Dave, Nick, Ronnie, Vince and Rick. There are four sisters: Kathy, Jeannie, Terry and Rita. He attended grade school at Our Lady of Perpetual Help in Sedamsville, and Western Hills High School. Pat entered the United States Army on July 26, 1969 and took his basic training at Ft. Dix, NJ and AIT at Ft. Belvoir, VA. He was honorably discharged in March of 1972. Pat was deployed to Korea in 1970-71 with the 8th Army and then was sent to Vietnam to serve in 1971-72 with the 159th Engineer Group at Phu Bai and Quan Tri as a Specialist 4 (Spec 4). Later on, he would join the National Guard, along with his father-in-law, Ralph Cole, with the Madison, IN unit. He trained as a heavy equipment operator. Pat married Roxanne (Cole) in 1980 and they have two sons, Patrick and Matthew. They have five grandchildren and three step-grandchildren. Today they reside near Aberdeen, IN. He worked in civilian life as a heavy equipment operator with the Operators Union 181 in Louisville, KY. Pat is a member of the American Legion Post 59 in Rising Sun and the Color Guard, the Korean War Veterans Association Chapter 4 in Aurora (KWVA) and its Color Guard, a Life Member of the Southeastern Indiana Vietnam Veterans of America Lary D. Fogle Chapter 71 in Aurora and its Color Guard. He earned the National Defense Service Medal, Korean Defense Service Medal, Vietnam Campaign Medal, Vietnam Service Medal with two bronze stars, Armed Forces Expeditionary Medal, Army Good Conduct Medal and the Sharpshooter Badge for Rifle and Pistol. Pat is a very patriotic man and believes that we should show proper respect to the American Flag and that it should never be used in a form of protest. He supports our troops serving today and is proud of his service to our great nation. Pat just returned from a trip to Washington, DC with his Korean War Veteran father-in-law and 50 veterans from Southeastern Indiana and loved seeing the monuments and memorials there and especially the Changing of the Guard at the Tomb of the Unknown Soldier at Arlington National Cemetery. It's a very moving ceremony to witness and Pat recommends taking your family to DC to see this solemn tribute and all the tombstones in Arlington National Cemetery to give you a perspective of the price that has been paid for our freedoms. When you are in Washington, DC you can't help but be proud to be an American and you will see people from all over the world there to see America at its best.
David Teke - was born on October 19, 1947 in Cincinnati, OH to Talbert Henry Teke and Edna Irene (Doehlman) Teke. He had one brother, Terry Lynn "Tanker" Teke and a sister, Karen Jo (Merkel). We all spent a lot of time at Teke's Grocery Store on Sheldon St. in Greendale. Dave graduated from Greendale Grade School and then Lawrenceburg Consolidated High School (LCHS) in 1965. Dave married Linda Rae Sadler on June 24, 1967. He then entered the U.S. Army on Dec. 3, 1967 and took his basic training at Ft. Benning, GA. He was sent to Ft. Sill, OK for his AIT and artillery training. He was deployed to Vietnam from April 1968 to May 4, 1969. He served with the 1/7th Artillery of the 1st Infantry Division or the Big Red One. He was awarded the National Defense Service Medal, Vietnam Service Medal, Vietnam Campaign Medal, Vietnam Gallantry Cross with Palm, Army Good Conduct Medal, Army Commendation Medal, Meritorious Unit Citation, Presidential Unit Citation and Expert Rifle Badge. He served as a Specialist 4 or Spec 4. Dave worked at CG&E, now known as Cinergy, at the Miami Fort Plant from January 23, 1967-89. He was in Operations and later transferred to the Maintenance Dept. He was a member of the Greendale Fire Dept. from 1979-92. He and Linda were blessed with two daughters, Shana (Jeff) Lane and Dawn (Todd) McGill and six grandchildren: Michael Carlisle, Justin Carlisle, Eric Hambrick, Sara Hambrick, Abigail Lane, Lainey McGill and 2 great grandchildren, Adilae Carlisle and Oaklyn Carlisle, Lawrenceburg was blessed to have the Vietnam Veterans Memorial MOVING WALL to come to Lawrenceburg in 2002 and Dave was the driving force for that event and was responsible for bringing Medal of Honor Recipient, Sgt. Sammy Davis, to Lawrenceburg for four days for that celebration and again for several other events in the following years, such as the War Memorial to the Common Man on the levee and Dave was a vital part of that too. He worked on the beautiful monuments and memorials at the Dearborn County Courthouse too. Dave was a major factor in working with his friend, fellow classmate at LCHS and Vietnam Veteran Brother, PG Gentrup, and make it happen with an Honor Flight with 38 World War II Veterans and 15 guardians to Washington, DC to see the memorials and monuments in 2008. It was a wonderful flight and they enjoyed spending time with the World War II Veterans and helping them enjoy the Changing of the Guard at Arlington National Cemetery and watching four of them place a wreath at the Tomb of the Unknown Soldier. They also visited the Iwo Jima/Marine Corps Memorial and the World War II Memorial. Dave was so excited and felt honored to join the WWII Veterans on this journey. Dave continued to help with another Honor Flight in 2009 and then they converted the trips to a three day bus trip so they could see so much more. On one of those trips, Dave was honored to be one of the four wreath presenters at the Tomb of the Unknown Soldier and to be able to walk on that hallowed ground made him stand tall and proud. PG Gentrup has always said, "If you cut Dave Teke, he will bleed, Red, White and Blue." Dave has worked close to 40 Moving Walls thru the years and would be continuing that today if not hampered by health problems. He has been to Washington, DC so many times with John "Top" Holland, Keith Maupin, Mayor Truck Tremain and PG Gentrup, that you need a scorecard to keep up with him. He is also a very good friend with the longest held Prisoner of War (POW) from the Vietnam War, Bobby Garwood. He attended the Freedom Fest for several years in Skidmore, MO with Medal of Honor Recipient, Sgt. Sammy Davis and others. Dave is an associate member of the Mothers of the Military, Board member of Veterans Ministry and HAM operator. He is a member of American Legion Post 239 in Lawrenceburg and a Life Member of the Southeastern Indiana Vietnam Veterans of America Lary D Fogle Chapter 71 in Aurora, which is named after his friend and fellow classmate at LCHS, Lary Dale Fogle. He is a long time member of the Patriot Guard Riders and has attended many funerals for fellow veterans and stood guard with an American Flag. He has attended many school functions for veterans and has helped put on programs for the students. He has received many plaques and awards for his service thru the years to his fellow veterans. He was presented with a Quilt of Valor when surprised at his home on Hayes St. in Greendale on Christmas Eve in 2016 by his cousin, Linda Williams, and several Vietnam Veterans. Linda made the beautiful quilt in honor of Dave. Dave's wife, Linda, passed away on April 11, 2018 after a lengthy battle with pneumonia. Linda was not a veteran but she helped so many of them in so may ways She and Dave had been married for 50 years, 9 months and 18 days and were Best Friends to each other. Linda was Dave's life and they were the best parents the girls could wish for. I'm PG Gentrup and I'm proud of my association with Dave Tele for so many years, I receive a lot of credit for my work with veterans but if not for Dave Teke, I wouldn't be helping today. Back in 2002, Dave called me and asked me to help with the Moving Wall that was coming to Lawrenceburg and I told him I didn't have the time because of my job at the Tanners Creek Power Plant and it required so many hours of my dayas a supervisor and we were involved in a big outage. He told me that we had two classmates on that Wall and I needed time to help pay tribute to them. As they say, the Rest Is History. Dave started me on this journey to pay tribute to our fellow veterans and especially the ones who didn't get to come home like we did and Live the American Dream. Our two classmates, Lary D Fogle and Tommy Denning will not be forgotten and I only wish Dave could still be active, but he is always with us in spirit and Linda is too. They were a team and had Hearts of Gold and would drop everything to go to the aid of somebody who needed help. Dave, I want you to stop and realize just how many hours of my life you have consumed thru the years with these veterans' projects BUT I would not change anything. The USA could certainly use a lot more people like you and Linda, who always put others first and held out that helping hand. May God Bless You and your family and the United States of America and may Linda rest in eternal peace. We will keep her in our thoughts and prayers. Welcome Home, Brother.
Selbert "Seb" Walston - was born on February 22, 1937 in Rising Sun, IN to Selbert and Elizabeth (Cole) Walston. They resided on Second Street in Rising Sun. His brothers are: Wesley (Navy), Kenny, Timmy and Joe. Sister are: Violet and Melody. He attended sckools in Moores Hill, Rising Sun and Cass Union. He also attended in Deputy and Paris Crossing. Seb entered the United States Navy in January 1955 and honorably served until his discharge in December 1957 after three years of faithful and dedicated service. He served aboard an Aircraft Carrier, the USS Tarawa CVS-40, as a Seaman Second Class with three tours to Cuba. The Tarawa was a sub-chaser and their helicpoters were equipped with sonar buoys to track enemy submarines. Seb was designated as a "Kitty Cruiser" and this is a name given to those who enlist before the age of 18 and are discharged before the age of 21. Seb was awarded the National Defense Service Medal, Korean War Defense Medal, United Nations Korean Service Medal, Cold War Ribbon and an Overseas Ribbon. He qualified as an expert with the M-1 rifle. Seb married Peggy Sackett and they had four children: Doug, Bethany, Rebecca and David. There are nine grandchildren and 29 greatgrandchildren. He is proud of the service of his grandson, Joey, who is on his second tour of duty to Iraq and Kuwait. His grandson, Justin Chapman, is also in the Army. Seb worked at Aurora Lumber, OK Trucking, Aikens Truck Line, Legge Associates Construction and Yelton Excavating. He belongs to the American Legion Post 59 in Rising Sun and the Color Guard, Life Member of the VFW Post 5312 in Aurora, Life Member of the Korean War Veterans Association Chapter 4 in Aurora and its Color Guard, and a Life Member of the Disabled American Veterans (DAV) Chpater 75 in Aurora. Seb resides at the Candlewood Apartments in Rising Sun. It was an honor for him to serve our great nation and he wholeheartedly supports our troops serving around the world today to preserve and protect our freedoms.
Bill Parks - was born in Lawrenceburg on June 2, 1949 to Warren and Thelma Parks. His step-dad was Earl Moeller. He had six sisters: Alice, Susan, Lois, Teresa, Laurie and Diane. Bill attended grade school in Florida and graduated from Lawrenceburg Consolidated High School (LCHS) in 1967. In July of 1967, Bill entered the United States Army. He took his basic training at Ft. Benning, GA and then two AIT's at Ft. Dix, NJ and Ft. Knox, KY. He joined other soldiers and was sent to South Korea in March of 1968. He originally had orders to go to Vietnam but that quickly changed when the USS Pueblo and its entire crew were captured by North Korea on Januaary 23, 1968, claiming that it was a spy ship. Their orders were changed and immediately sent to South Korea in anticipation of brewing trouble. Bill spent 13 months in Korea with the 2 nd/32nd Infantry Division serving all over Korea at different missle sites working on vehicles. His main base was at Camp Casey. Bill was discharged from the Army but decided to re-enlist and then was honorably discharged in June of 1974 with a medical discharge. He had spent a total of seven years serving our great nation. He served three years at Bamberg, Germany with the 709th Field Artillery. He was awarded the National Defense Service Medal, Army Good Conduct Medal and the Korean Defense Service Medal. He also earned the Expert Rifle and Pistol shooting badges. Bill has worked as a machinist, a lineman for Rising Sun Utilities, was the Operations Director for 12 years at New Horizons, worked at the Work One Employment Center helping veterans to find jobs for seven years. Bill married Nancy Lawson in January of 1975 and they have six children: Bill Jr., Cindy, Michael, Veronica, Douglas and Jeremy. Jeremy served in the Army with two tours of duty in Iraq. Bill is a Life Member of the VFW, Disabled American Veterans (DAV), Vietnam Veterans of America (VVA) Lary D. Fogle Chapter 71, 40&8 and American Legion Post 59. He has been a member of the American Legion for over 50 years. He is also a member of the Korean War Veterans Association (KWVA). He has been in charge as the Sgt. of Arms for the Post 59 Color Guard for 11 years and a member of the squad for 15 years. Bill has been very active in the American Legion having served in several capacities. He has been elected as the Post 59 Commander twice, a member of the Executive Committee, Membership Chairman and Vice Commander. He served as the 9th District Commander for two years and as the 9th District Vice Commander for 12 years. He is presently serving as the Southern Vice Commander for the American Legion Department of Indiana. Bill faithfully serves as the Veterans' Service Officer for Ohio County and was instrumental in getting a van to transport our veterans to the hospital and doctor appointments. Bill has that attitude of "What Can I Do to Help a Fellow Veteran?" He takes care of the Veterans Memorial at the Courthouse in Rising Sun and plans the wonderful Memorial Day service every year, which is attended by hundreds of American Patriots and their families. He was a major factor in getting the new monuments for the Veterans Tribute Tower on the riverfront in Rising Sun and the rededication of that beautiful memorial. He, along with the Post 59 Color Guard, played an important part in bringing and escorting the Vietnam Veterans Memorial Moving Wall to Rising Sun in 2008. Bill believes in the United States of America and what it stands for. He says it is our duty as veterans to take care of one another because some have not been so fortunate and they still carry many scars, physically and emotionally, from their service days. He feels he's is fortunate to live in the greatest country on the face of the earth. God Bless America.