Bevin issued 428 pardons and commutations, including at least seven convicted murderers.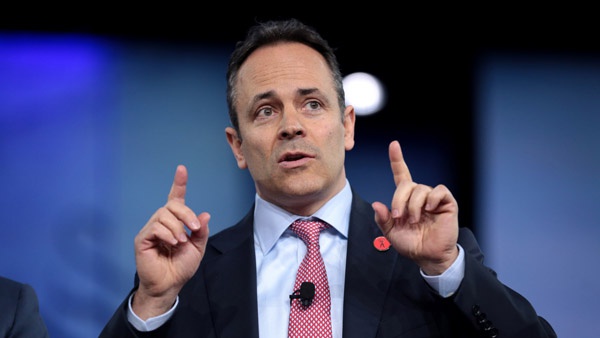 Former Kentucky Governor Matt Bevin.
(Erlanger, Ky.) – In one of his final acts as governor, Matt Bevin has pardoned a local man convicted of rape, sodomy and sexual abuse.
Micah Schoettle, 40, of Erlanger, was arrested in September 2016 after a then nine-year-old middle school student reported that she had been sexually assaulted by Schoettle.
He was sentenced to 23 years in prison in May of 2018.
Schoettle is among 428 pardons and commutations from Election Day through the end of Bevin's term Monday, reports the Louisville Courier Journal.
The now former governor explained that Schoettle was convicted based on testimony that was not supported by any physical evidence. He added that the case was investigated and prosecuted in a "sloppy" manner.
"So, I guess Matt Bevin thinks he's smarter than the 12 citizens that heard the actual evidence," said Rob Sanders, Kenton County Commonwealth's Attorney. "I've got news for him: Child molesting rarely happens in front of witnesses or leaves physical evidence. If we didn't pursue those cases, 99% of child rapists would never be prosecuted."
Bevin also pardoned Patrick Brian Baker, who was convicted in 2014 with reckless homicide, first-degree robbery, impersonating a peace officer and tampering with physical evidence.
According to reports, Baker's brother and sister-in-law hosted a fundraising event for Bevin in 2018.
Bevin also pardoned at least seven people convicted of murder.
"This irresponsible manipulation of the justice system is why the public's confidence is constantly eroded," Sanders added. "No one from the Bevin administration gave any warning this was coming. If they had, we'd have shown them why these rapists and killers were behind bars to begin with. These pardons regurgitate false statements of defense attorneys that juries of Kentucky citizens obviously didn't believe."