Bradley Back will serve 15 years in prison and 10 years on probation for manufacturing a bomb in his Bright home.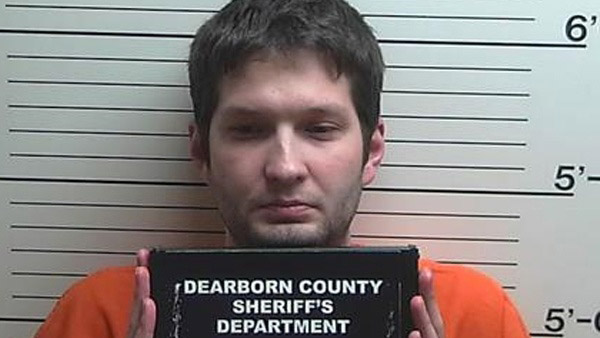 Bradley Back. Photo by Dearborn County Sheriff's Department.
(Lawrenceburg, Ind.) - Prosecutors' and the defense attorney's ascribed motivations to Bradley Back's creation of a homemade bomb couldn't be further apart.
Dearborn Superior Court I Judge Jonathan Cleary made that observation just moments before handing down a sentence of 15 years in prison, followed by 10 years on probation, for the 31-year-old Back at Friday's sentencing hearing.
Cleary listened to several hours of testimony and attorney arguments Friday, in addition to overseeing the case for the previous 20 months and receiving 30 letters from Back's family and supporters.
Back's defense was that he created the bomb to take his own life after his father seized his guns as his son suffered through depression.
But prosecutors believed there were other, more serious motives. The makeup of the explosive device, his internet search history, and stalking of the woman who recently broke up with him were telling.
"When we start talking about making bombs, you're crossing the line," Cleary noted to a packed courtroom filled mostly with family and supporters of Back.
In August, Back pleaded guilty to Possession of a Destructive Device or Explosive with Knowledge or Intent that it be Used to Kill in a plea deal in which prosecutors agree to dismiss three other charges. The level 2 felony charge carried a sentence of 10 to 30 years, but the plea deal capped Back's maximum time in prison at the 15 years he ultimately received.
"We felt like the judge gave the appropriate sentence based on what he did. It felt like he was a threat to the community," Dearborn-Ohio County Prosecutor Lynn Deddens said following the pronouncement.
Defense attorney Robert Hammerle said he worries for Back's well-being while he serves his time with the Indiana Department of Corrections.
"No matter how it's sliced, you've got a mentally disturbed kid going into the prison system where he could be going into Dante's Inferno," Hammerle observed disappointedly.
Nobody speaking in court Friday denied that Back is the person who created the homemade bomb inside his home on Ledgestone Drive in Bright in April of 2017. On Easter Sunday afternoon, the device exploded in his bedroom closet.
Nobody was injured, but firefighters and deputies first on the scene quickly realized it was not simply the structure fire it was dispatched as. There were no flames in the home. The distinct smell of burnt gunpowder permeated the air. A wall in the bedroom area had been blown out approximately four inches.
Deputies and the Indiana State Police EOD Team investigating noted 1/4-inch metal hex nuts which had been blasted about the area.
Bureau of Alcohol Tobacco Firearms Agent Mike Eggleston was the first in a parade of state's witnesses to testify Friday. He called the bomb a "victim activated device." The device consisted of a plastic project box filled with pyrodex, a type of gunpowder. The hex nuts, Eggleston believed, were intended to serve as shrapnel to injure a person or cause property damage.
The bomb's ignition device was described as matches packed in a set of bamboo strips situated within the project box. The matches were attached to a string, meant to pull on the matches when moved, Eggleston said.
"It was designed to attack a third party," said the 28-year ATF veteran who has analyzed "literally thousands" of devices.
A torn gift bag with explosive residue was found near the spot in the closet where the bomb went off. Hammerle noted that the gift bag was not considered important enough for the ISP bomb squad to collect as evidence.
But later, investigators became suspicious that the bag was meant to conceal the bomb from a potential victim.
The likely target, prosecutors said, was Tracey Henderson. The Cincinnati mother of four had recently dumped Back.
When he didn't take the break-up well, she sought a protection order against him.
Back read from a prepared statement on his own behalf at sentencing, saying he did not know how to cope with the breakup and became depressed.
Hammerle insisted throughout the sentencing that the bomb was made as a suicide device. Back himself testified that he was suicidal, having twice attempted to take his own life by overdosing on pills after the break-up.
"One suicide attempt was immediately after she told me I would never see the kids again," he told Cleary.
The defense noted mental health evaluations from Back's two post-attempt hospital stays which noted that he was a "low risk" to harm others.
"I never intended to hurt any other individual in my entire life," Back said, adding that the bomb never left his bedroom closet.
Prosecutors weren't buying it. Dearborn County Special Crimes Unit detectives testified Friday about what they learned following the explosion. Det. Sgt. Barry Bridges said Back's electronic devices were searched, revealing he had conducted web searches for topics including "pressure cooker bombs", "grenades", "GPS tracking", "bump keys", and "phone trackers".
Bridges told the court that more searching revealed Back told a friend in a text message that he had never really tried to kill himself with his suicide attempts.
The alarming searches continued for weeks, even up until about just one hour before the bomb exploded. Detective Rodney Rimstidt said Back's web searches that day included phrases such as "mob hits" and "how does FBI investigate explosions".
Deputy prosecutor John Watson said latex gloves were found in the home, perhaps to avoid forensic detection of the bomb's creator.
"He researched ways to keep others from finding out what he was doing," said Watson. "Those closest to him had no idea what he was capable of doing or would do."
Phone records also revealed that Back had electronically and physically stalked Henderson and her new boyfriend on multiple dates within two weeks of the bomb blast.
Henderson appeared in court to deliver a victim impact statement. After three years together, she said she was clear about their relationship ending.
"I never thought he would go that far. I asked him to leave me alone or I would get a restraining order," she said.
After detectives began to suspect Back's supposed motivation to create the bomb, they informed Henderson, who became terrified.
"No relationship should end with children being put in danger. The device could have ended up on my porch," she said, becoming emotional.
In closing statements, Watson asked Cleary to prescribe the maximum sentence "because he is a danger to commit murder."
Hammerle said Back fully admitted his guilt and took full responsibility, but there is no evidence that he wanted to harm anybody but himself. He asked that Back simply be put on probation so that he could receive the mental health counseling he needs.
"He's a peaceful man whose mental health was spiraling," Hammerle said, reading from a letter submitted by one of Back's relatives.
In announcing the sentence, Cleary said that Back's culpability was high.
"He built a bomb that worked. It was planned," he said. "The ATF agent believed the device accidentally went off. Numerous gloves found in the home are inconsistent with suicide."
Referencing famous bombings at the Boston Marathon, Oklahoma City, and elsewhere, Cleary said Back crossed a line that cannot be crossed.
The defense asked that Back be recommended for purposeful incarceration while in prison. Cleary denied that request, saying there was not enough evidence presented.
RELATED STORIES:
Guilty Plea Entered By Homemade Bomb Suspect
Judge Denies Change Of Venue, Prosecutor For Accused Bomb-Maker
Explosive Device Goes Off In Suspect's Own Home; May Have Been Targeting Others