This year's honorees will be celebrated on December 16.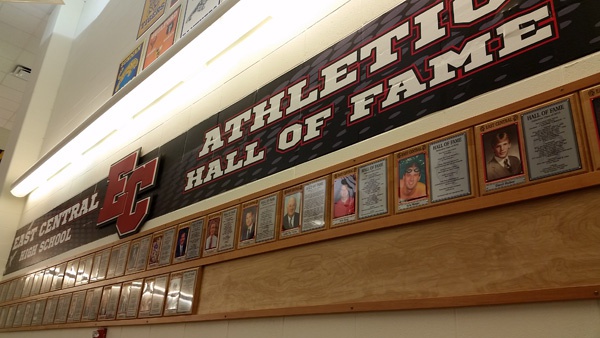 (St. Leon, Ind.) – Five new members will be inducted into the East Central High School Athletic Hall of Fame this December.
The Hall of Fame Awards Banquet will take place on Saturday, December 16 at 6:00 p.m.
This year's honorees are Kenzie Bentle, Aimee Bruder, Stephanie (Frondorf) Perkins, Don Stonefield, and Wilbur Schneider.
In addition to the award banquet, each honoree will be recognized during the halftime show of the boys varsity basketball game on the evening of December 16.
Bios for each honoree (provided by EC Athletics) are listed below.
Kenzie Bentle – North Dearborn High School – 1966. Contributor to the Athletic Department, 22 years Band Director (1978-1999). He directed the marching bands, pep bands, stage bands, auxiliary corps, drum corps, concert bands, and featured twirlers. The countless performances he directed range from pep rallies to boys basketball and football games. Kenzie put the EC marching band on the map by taking them to perform at the RCA Dome for the 1994 Football State Championship game, Disney World, Bengals games, the Indiana State Fair and many other countless events. The kind of music he directed was not your typical music. It was music the kids knew and enjoyed playing. It was the kind of music that got athletes revved up and ready to play. He also coordinated with the cheerleaders so they could dance to the music. He would often get words of thanks after sports seasons from coaches for the bands support of them during their season. He was an all-around supporter of not just school but the kids and their successes.
Aimee Bruder – East Central High School – 1993. One year varsity letter recipient. Six time Paralympian from 1992 – 2012. Three time bronze medalist in 1996 Atlanta Olympic games, silver medalist in 2000 Sydney Olympic games and bronze medalist in 2008 Athens Olympic games. Represented the USA in three world championships. Two time gold medalist (1998) and two time silver medalist at IPC Swimming World Championships. 2002 Olympic torchbearer.
Stephanie (Frondorf) Perkins – East Central High School – 2002, three sport athlete (4 volleyball, 4-Softball, 3-Basketball). Volleyball – 3x All-Conference, Most Season Assists 584, Most Career Assists 1631, Best Offensive Player, Best Server. Softball – EIAC Conference Champions 1999 – 2002, Sectional Champions 2000 & 2001, EIAC All-Conference, Academic All-State Honorable Mention 2002, EIAC All-District 2002. Basketball – EIAC All-Conference, Ripley County Tournament Champions 2000, Assist Award 2001, MVP 2002 and Free Throw Award 2002. Went on to attend Thomas More University from 2002 – 2006. Played volleyball for one year and softball for four. Second team All-PAC selection (2006), NFCA All American Scholar Athlete (2003), First Team All-Region (2004), Academic All-District Team (2004), Third Team All-Region (2005), All Independent First Team (2005), Offensive Player of the Year (2005). Holds the school record for career triples with 10. Ranks in the top-10 in seven other career batting categories including third in batting average at .375, fourth in doubles with 32, fifth in stolen bases at 39, sixth in runs scored with 109, seventh in runs batted-in with 83, ninth in hits with 149 and 10th in home runs with seven. Holds the single-season record in triples with five.Played on a select American Fast-Pitch Softball Team in the Netherlands – July 2005
Don Stonefield – East Central High School – 1988, two sports athlete (4 – Football, 4 – Track) Football – Jr. All-State Linebacker (1986), All-EIAC Linebacker and EIAC Defensive MVP (1986 & '87). API & UPI All-State Linebacker (1987), Indiana North/South All-Star (1987), WLWT Greater Cincinnati All-Star (1987), IFCA Region X – MVP, Football team captain, team member of the EIAC, Sectional and Regional Championship teams. Track – EIAC 200m. Champion (1987). Went on to attend Ball State University from 1988-1992, 4 year letterman and two year team captain (1991 & '92), 4 year Academic All-MAC & GTE Academic All-District, 2nd team All-MAC Linebacker and team leading tackler (1990), Mid-American Conference Champions – Raisin Bowl (1989). East Central Head Football Coach for 10 years with a 73% win average- 10 EIAC, 6 Sectional and 1 Regional Championships. East Central Head Girls Track Coach for three years – 3 EIAC, two Sectional and Regional Championships. Good….Better….Best! East Central High School Athletic Director 12 years 2011 – 2023. Under Armour "WOW" – Hall of Fame 2023.
Wilbur Schneider – Sunman High School – 1967, three sport athlete (4-Basketball, 4- Track, 4-Baseball), Basketball – Career average per game – 14 pts, 12 rebounds and 9 blocks. Single game and career records in rebounds and blocks, Defensive Player of the Year (1965, '66 and '67), 3 year Ohio River Valley Conference Champion, Hit 57 consecutive free throws 1966. Was a member of the 1966 Sectional Team, Ripley County Tournament Champions 1967, 3x All-Conference, 2x All-Sectional, MVP 1967 and 2017 Inductee into the Ripley County Basketball Hall of Fame. Track – Shotput record holder. Wilbur went on to attend Mississippi State on a full basketball scholarship and was a three year starter for their basketball team.