Students at East Central High School, and those at schools he once competed against on the football field, are in shock over the death of senior Brett Fox.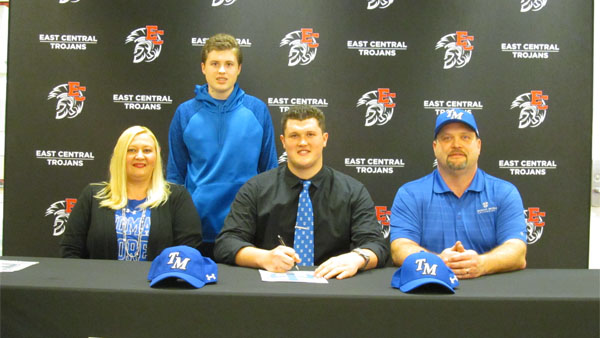 Brett Fox was surrounded by his mother Heather, father Kevin, and brother Ryan as he signed his letter of intent to play football at Thomas More University just days before he died in a vehicle crash. Photo by EC Athletics.
(Hidden Valley, Ind.) – Schools, football teams, players, and neighbors are sending their condolences to East Central High School and the family of senior student Brett Fox.
Fox, 18, was killed in a Thursday morning crash on State Road 1 just north of Greendale. Dearborn County Sheriff's deputies say his Dodge pickup truck went off the road after encountering a patch of black ice.
Counselors were present at East Central High School on Thursday and have returned Friday to help students process their emotions.
A makeshift memorial has sprouted at the baseball fields in Hidden Valley, the neighborhood where Fox lived. Classmates have left notes to Brett, flowers, and balloons. Friends have also gone to the scene of the crash to leave mementos and grieve.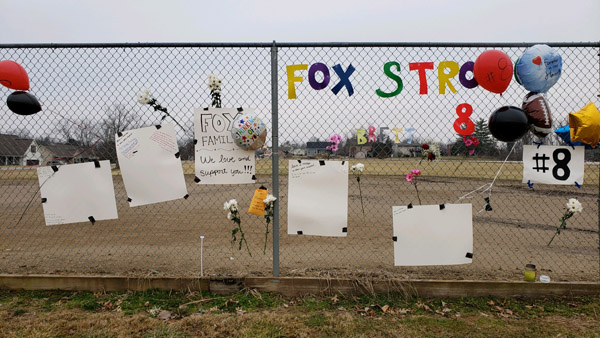 A memorial to Brett Fox has taken shape at the little league fields in Hidden Valley. Photo by Travis Thayer.
Brett was a member of the 2017 4A state championship team for East Central. He spoke about that experience and the team's 2018 sectional championship victory during an interview on Eagle Country 99.3's Crunch Time last November.
"No one thought we were going to win the state championship. Well, every team every year is different. Like, this year we have a target on our back, so this year we are trying to stay focused and win every week. The ultimate goal is to get back to that state championship game," Fox said.
His nickname was "Big Bad Brett." The monicker was fitting for a player who personified the "bad boy" mentality which has propelled the East Central football program to its status as one of the best in the state.
Just this week, Fox committed to play football at Thomas More University. A handful of former Trojans are on the team there.
Thomas More Saints coach Tom Stellman echoed East Central coach Jake Meiners' sentiments about Fox: he was not just a great player, but a great young man.
"We knew that Brett was not only destined for a great career here at Thomas More, but that he was going to do great things after his time at TMU. Today our football family grieves with Heather, Kevin, Ryan and the entire Fox Family. We are heartbroken over the news and will continue to keep their family in our thoughts and prayers," Stellman said.
Former East Central High School head football coach Justin Roden shared a text message he received from Fox, illustrating the teen's character.
I'm not in a good place after losing one of my former players today. I have read his last message to me over & over and it cuts deeper and deeper each time. You will forever be remembered Brett. My prayers to the entire EC community & especially the Fox family. pic.twitter.com/5uYF29lCHQ

— CoachRoden (@rodenjustin) February 21, 2019
Fox was well-liked not just among his teammates, but players and coaches on other teams in southeastern Indiana.
At Thursday night's home game against Oldenburg Academy, Lawrenceburg High School students collected $800 in donations for the Fox family. South Dearborn High School and Milan High Schools are planning "Red and Black" themes at their boys basketball games this weekend as a show of support for EC.
East Central's boys basketball team has a home game Friday night against Greensburg. Brett was usually in the student section cheering on the Trojans. As it will in so many people's lives, his premature death will leave a void in the bleachers.
Eagle Country 99.3 will broadcast East Central's boys basketball game Friday night live, starting at 7:10 p.m., encouraging listeners to make a contribution to the "The Fox Family Fund" established at Civista Bank branches in the area.
A GoFundMe.com page has also been set up to raise money for the Brett Fox Memorial Fund. It has a $5,000 goal.
Funeral services for Brett Fox have not yet been announced.
LburgHigh students collected over $800 during tonight's basketball game to donate to the EastCentralHS Brett Fox Memorial Fund through Civista Bank. pic.twitter.com/9zjL38HQI9

— Lawrenceburg CSC (@LawrenceburgCSC) February 22, 2019
My favorite guy I ever played against. It was a pleasure to get to play against you. Prayers up for all of the EC community. https://t.co/bPY18L7Agd

— Tristan Rinehart (@tristanr_5) February 21, 2019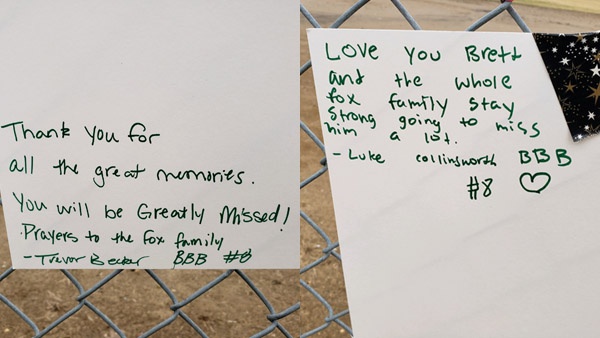 Teammates have left messages for Brett Fox at the Hidden Valley memorial. Photo by Travis Thayer, Eagle Country 99.3.
RELATED STORIES:
Crash Claims Life Of East Central Football Star, Thomas More Recruit