Of the three teams that competed, all three placed in the top five.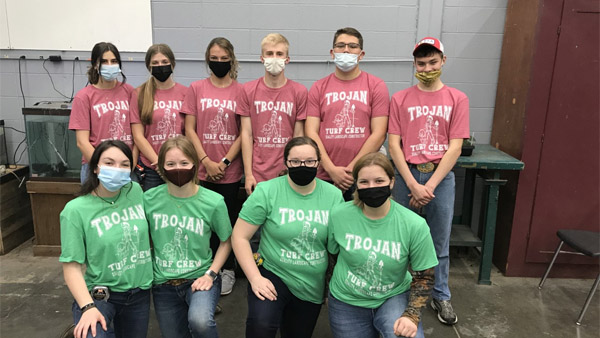 Back row (left to right): Emma Gutfreund, Madison Shumate, Megan Sierra, Xander Gilbertson, Heath Doll, and Joseph Miller. Front row (left to right): Mack Eckstein, Josie Hartman, Emma Reatherford, and Abby Vendler. Photo provided.
(St. Leon, Ind.) – East Central FFA is celebrating success at a state competition.
The Indiana FFA Nursery/Landscape CDE was held on April 24 at the Central Nine Career Center in Greenwood.
Ten East Central FFA members competed in categories such as landscaping estimating, identification of plants, pests, disorders, equipment and supplies, a general knowledge test, plant propagation practicum, verbal customer assistance, and a plant layout practicum.
Heath Doll, Madison Schumate, Megan Sierra, and Emma Gutfreund placed second overall.
EC also had teams place fourth and fifth at the event.
The fourth-place team consisted of Josie Hartman, Emma Reatherford, and Abby Vendler, and the team of Xander Gilbertson, Mark Eckstein and Joseph Miller placed fifth.