There are some awesome people living and working in and around Eagle Country and this story proves it.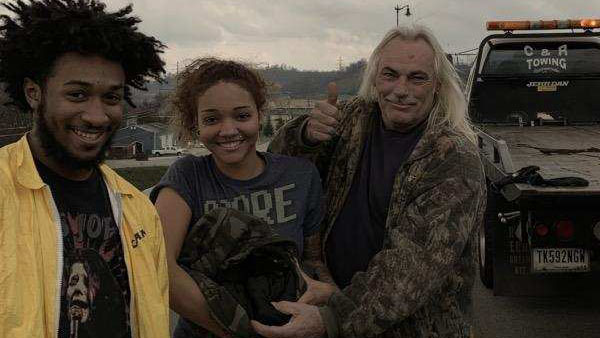 Photo provided by Lawrenceburg Police.
(Lawrenceburg, Ind.) - The holidays are about giving and two concerned citizens received an incredible gift thanks to a random act of kindness.
Lawrenceburg Police Officer Rodney Markland was called to a traffic hazard on the U.S. 50 flyover bridge on Tuesday, where two people were out of their vehicle in the middle of the road.
When approached by the officer, the couple said they had seen a black kitten on the side of the road and when they stopped to pick it up the kitten ran through the rim and up into the engine.
Photo provided.
Bobby Carter of C&R Towing was kind enough to come to the scene and hoist up the car so the kitten could be retrieved. Carter hoisted the car at no charge.
The kitten was eventually freed from the vehicle unharmed and put into the arms of the concerned couple, who proceeded to the store to buy food and toys for the kitten.
Thanks to Officer Rodney Markland and Bobby Carter, the kitten has found its "fur-ever" home.