A total of $151,206 was ordered to Hart.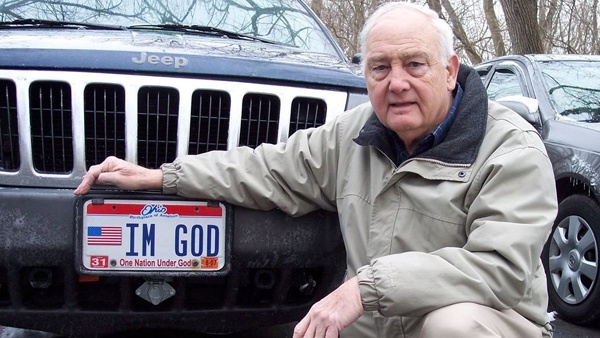 ( Photo by ACLU-Kentucky.)
(Kenton Co., Ky.) - The Kentucky Transportation Cabinet has to pay $150,000 in attorney fees to a man who requested a license plate reading, "IM GOD."
Ben "Bennie" Hart identifies as an atheist and claims that this license plate is his way of spreading a political and philosophical message that faith is susceptible to individualized interpretation, reports FOX19 NOW.
Hart claims that he had been driving in Ohio with "IM GOD" on his license plate for over a decade.
"I can prove I'm God. You can't prove I'm not. Now, how can I prove I'm God? Well, there are six definitions for God in the American Heritage Dictionary, and number five is a very handsome man, and my wife says I'm a very handsome man, and nobody argues with my wife," Hart tells FOX19 NOW.
When the man moved to Kenton County in 2016, he ordered his license plate, requesting the same message.
Instead of receiving his plate, he got a letter from commonwealth transportation officials denying his request. The explanation given was that this license plate could be considered "vulgar or obscene."
The state's lawyer stated that they would have taken the same position if the request was "IM ALLAH," "IM BUDDAH," or "IM SATAN"
The American Civil Liberties Union and Free From Religion Foundation files a lawsuit on behalf of Hart.
In April of 2017, the state asked for this lawsuit to be dismissed.
Hart was given his plate after the court ruled that the Kentucky Transportation Cabinet violated the First Amendment.
On February 10, Judge Gregory Tantenhove ordered the KTC to pay Hart $151,206 in attorneys' fees and litigation costs.