Indiana's Democratic Senator called this Supreme Court confirmation process more partisan and more angry.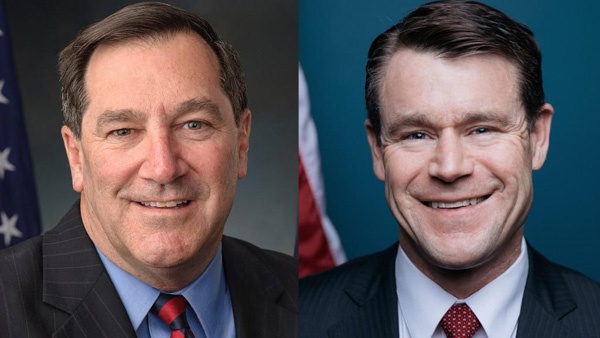 Indiana U.S. Senators Joe Donnelly (left) and Todd Young differed in their votes on Judge Brett Kavanaugh's confirmation to the U.S. Supreme Court.
(Washington) - He did not vote to confirm Brett Kavanaugh to the U.S. Supreme Court, but Indiana's Democratic U.S. Senator had some encouraging words for the newest justice.
"I am very hopeful for his success and for him to join the other justices to make decisions based on the constitution, our laws, and their collective wisdom," Sen. Joe Donnelly said in a YouTube video posted following the weekend party-line vote confirming Judge Kavanaugh.
Donnelly says the selection of a Supreme Court justice is challenging and that this time the confirmation process was more partisan and more angry.
"I believe the process was unfair to everyone, and unnecessarily divided the country," Donnelly said.
Watch: Joe's statement following the vote on Judge Kavanaugh's nomination. pic.twitter.com/19HPvYlSh1

— Senator Joe Donnelly (@SenDonnelly) October 6, 2018
Donnelly's Republican opponent on the ballot this November, Mike Braun, took the opportunity to hammer Donnelly on the confirmation vote.
"Voting against Judge Kavanaugh today is just the latest example of Senator Donnelly saying one thing to Hoosiers and then doing another in Washington. Instead of joining Hoosiers in supporting Kavanaugh, Senator Donnelly joined the Democrat media circus to smear and obstruct President Trump's nominee. I am thrilled the Senate has confirmed Judge Kavanaugh, and look forward to the great work he will do to protect our Constitution on the Supreme Court," Braun said.
Meanwhile, Indiana Republican Senator Todd Young voted with most of his party Saturday. Satisfied with the week-long FBI investigation into the sexual assault allegations against Kavanaugh, Young said none of the allegations were corroborated in any way.
"Hoosiers expect results, and we have more work to do to ensure all Hoosiers can meaningfully participate in this growing economy. I'm hopeful we can now move beyond the heightened rhetoric and political gamesmanship we have seen over the last several weeks and resume working together in a bipartisan way to deliver results for the American people," Young said in a statement.
Ohio Republican Rob Portman joined Kentucky's Mitch McConnell and Rand Paul in voting to confirm.
"Having looked at the totality of Brett Kavanaugh's life and career, I am persuaded to vote for him today," Paul said. "The preponderance of evidence from hundreds of people who knew him and worked with him indicates he is a good man with a good reputation for integrity and character. Judge Kavanaugh is qualified, he has been vetted, and he should be confirmed."
Ohio Democrat Sherrod Brown held true to his opposition to Kavanaugh from the start.
Judge Kavanaugh's record is clear. He has consistently sided with the most powerful special interests, not American workers. The stakes for Ohioans are too high to give this justice a lifetime appointment to our highest court. -SB https://t.co/JKKIpdqO4x

— Sherrod Brown (@SenSherrodBrown) October 6, 2018