Planting season is here, so tractors will be traveling on roads more often.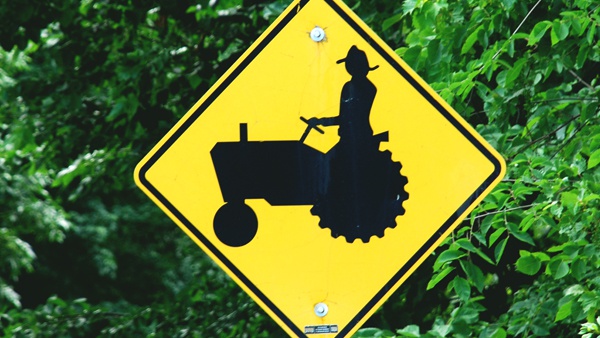 (Franklin County, Ind.) - Spring has arrived. With the arrival of the warmer weather, also comes the arrival of planting season for area farmers. Drivers will see an increase in slow-moving farm equipment on the area roadways as farmers prepare their fields for planting this year's crops. Franklin County Sheriff's Deputies would like to remind citizens to be alert, be patient, and share the road with farm machinery.
"Often times, it is difficult to estimate the speed and size of slow-moving vehicle as drivers approach from either direction. Due to this difficulty, drivers often find themselves upon these slow-moving vehicles with little time to react or take appropriate measures to avoid a collision," said Sheriff Peter Cates.
According to the National Highway Traffic Safety Administration, farm equipment vehicles (not including trucks) were involved in 92 fatal crashes across the U.S. last year - with six of those incidents occurring in Indiana (Holtsclaw).
"Because the operators of farm equipment do not have the same safety features as passenger vehicles, it is important to remind drivers to use good judgment on the roadway," continued Sheriff Cates.
Deputies would like to provide the following safety tips:
The triangle on the back of farm machinery and implements indicate a slow-moving vehicle, usually under 25 m.p.h.
Look for hand signals. Just because a tractor veers to the right does not mean the operator is pulling over to allow someone to pass. Often times, operators must veer one way or the other in order to make wide turns.
Share the road. Farm equipment can be wide, sometimes taking up most of the roadway. Be careful and slow down when passing.
Do not pass in a "No Passing Zone" or within 100 feet of any intersection, railroad grade crossing, bridge, elevation structure, or tunnel. Drivers can be cited.
Most farmers will pull over and let you pass. However, be patient. It may take time for them to find a safe place to pull over.
For the Farmers:
Ensure your tractor or implement has a "slow-moving vehicle" triangle affixed to the rear of the equipment or implement.
Ensure lights and flashers are functioning properly.
Attach reflective tape or decals, especially at the widest point of the equipment or implement.