A Rising Sun woman was flown to a Cincinnati hospital from the crash scene.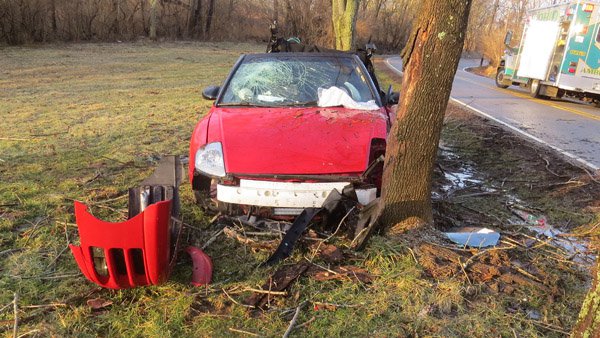 Photo provided by Ohio County Sheriff's Office.
(Ohio County, Ind.) - A woman was flow to the hospital after a crash on State Road 56 West in Ohio County Thursday morning.
An icy roadway is cited as the possible cause of that wreck just west of State Road 156 at around 7:42 a.m.
Ohio County Sheriff's deputies say a 2001 Mitsubishi driven by Suzanne Davis of Rising Sun had ran off the roadway and collided with a tree.
Davis was unconscious when first responders arrived. Firefighters had to extricate her from the wrecked vehicle.
Davis was then flown by medical helicopter to University of Cincinnati Medical Center where her current condition is not known.
Assisting the Ohio County Sheriff's Office was the Rising Sun Police Department, Rising Sun Fire Department, and Ohio County EMS.