The Aurora and Lawrenceburg mayoral candidates came to the Eagle Country 99.3 studio to talk about the issues important to voters.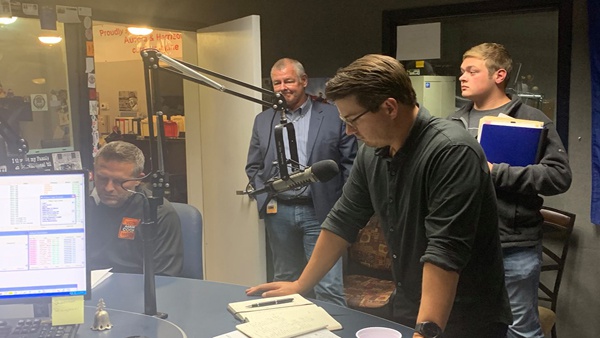 Dearborn County Chamber of Commerce President and CEO Eric Kranz questions each Lawrenceburg mayoral candidate about the visions they have for the future of the city.
(Lawrenceburg, Ind.) - Last night, the mayoral candidates from Aurora and Lawrenceburg were invited to the Eagle Country 99.3 studio for the last debate before voters take to the polls on Tuesday, November 5.
The debate was co-hosted by Eagle Country's Travis Thayer and Dearborn County Chamber of Commerce President and CEO Eric Kranz.
Aurora candidates, Democrat Melvin Kramer, Jr. and Republican Mark Drury started the conversation at 6 PM, followed by incumbent Republican Mayor of Lawrenceburg Kelly Mollaun, Democratic candidate Aaron Cook and Independent candidate Dylan Liddle at 6:30 PM.
Aurora Debate
The future for Aurora was a focus for both candidates. Although the future was a main focus, their views differ on what needs to be done.
Mark Drury stated that he was happy with the progress that was made the past four years. However, he would like to see an increase in affordable housing increasing the tax base to create long term progress.
"...I like to think of myself as a visionary, and I see our beautiful River City just the historic buildings being even more enhanced. You know we were presented with the possibility of doing that today through the study [One Dearborn Housing Market Analysis Presentation] that was done on our housing."
Melvin Kremer wants Aurora to be a place for visitors to stop and enjoy and not just pass through. He believes focusing on the beauty of the city will bring more people in, and put the town on the map.
"Well I would like to see it to be very beautiful, blossom more than what it has been. There is a lot of nice places downtown that can be extremely fantastic. We need to bring more people in when they come through town between, Lawrenceburg and Rising Sun, is the boats, they gotta pass through us. So what they're doing is passing through us, they're not stopping."
Lawrenceburg Debate
A popular topic throughout the debate was existing projects or departments that need to be looked at in terms of excess spending for the city.
Aaron Cook believes that there are spending cuts that can be made in two departments including City Hall non-union employees and the Legal Department.
"Not really so much projects....The two departments that I see that could be some 'belt-tightening' would be City Hall employees. I've mentioned it before, probably here in the primary, that over the past two administrations there's been six or eight additional non-union positions in the city building, I proposed to eliminate a few of those non-union positions which will save the city $2 million over a four year period."
Cook goes on to talk about the $1 million over the past 4 years paid to the legal department. He talks about the changes that he would make to decrease the amount of money that paid to the City of Lawrenceburg's attorney by bringing in someone new.
Dylan Liddle wants Lawrenceburg to protect their funds, but would need more details to solidify an answer regarding excessive spending.
"...There's probably a multitude that I could probably agree with that are an excessive spending, but until I was elected and heard from all the department heads and I actually saw the full budget I am unsure what this answer would probably be."
Kelly Mollaun feels that good investments are key. If you invest in a good project, it will return in the future.
"...We should be investing in projects that are gonna get us a return. That is just doing good business."
Mollaun goes on to address Cook's comment on the money spent on legal matters.
He says, "When we came on four years ago, we had over 30 lawsuits, I believe it was, at one time, that we inherited. Believe it or not people, it takes money to fight these lawsuits. The City of Lawrenceburg has been a place where people will sue the city, even if it's not the city's fault."
All of the candidates are encouraging the people to get out and vote.
The General Election takes place Tuesday, November 5. Eagle Country will have live updates from the Dearborn County Courthouse on Election Night.
You can listen to the full debate from Tuesday night below.