Join the prevention revolution #idareyou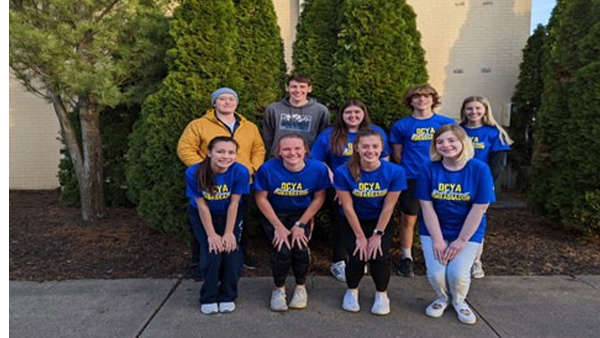 Dearborn County Youth Ambassadors. File photo.
(Dearborn County, Ind.) - The Dearborn County Youth Ambassadors (DCYA) are looking for new members to join for the 2022-2023 school year! This volunteer-driven group includes students across the county from East Central High School, South Dearborn High School, and Lawrenceburg High School. Each student in this group takes the pledge to be drug and alcohol free. This agreement not only allows them to model a healthy lifestyle, but also advocate for prevention to their peers. These students meet twice a month at 1.5-hour meetings to plan their events that spread the messages of substance abuse prevention and awareness. This group is a great way to develop leadership skills, gain volunteer hours, and make friends all while having time to participate in other activities such as school sports and clubs.
Students in this group participate in many great opportunities as well as create their own. For example, each year DCYA hosts their annual Youth Summit which serves as a day of interactive education for all eighth-grade students in the county. The Youth Ambassadors create and facilitate "learnshops'' covering topics such as smoking, underage drinking, decision-making, and stress. This year, the event successfully hosted over 600 middle-school students and the group hopes to continue to develop their strategies and plans in the future. While the Youth Summit is the largest event hosted by DCYA, there are plenty of other ways that the Youth Ambassadors make a difference within Dearborn County and beyond. Another example would be Red Ribbon Week and the efforts the students make to promote alcohol, tobacco, and drug prevention in the elementary, middle, and high schools. One example of the activities facilitated during this week each October is the educational scavenger hunt that rewards students with fun prizes. Another large focus of the Dearborn County Youth Ambassadors is the SPARKS program that showcases the talents, interests, skills, and hobbies of youth in a positive and exciting way. The Youth Ambassadors are given the chance to showcase their interest or skill in programs held at the elementary schools. Last summer, some Ambassadors held workshops for their SPARKS with elementary-aged students to promote and teach their talent. The purpose of this program is to promote passion and focus on positive activities.
Aside from events, the group also promotes initiatives that align with substance abuse and prevention values. One of their biggest campaigns is the #idareyou media campaign which takes a negative phrase and transforms it into a positive one. This campaign focuses on "daring" young people to try new and exciting things. This hashtag is used on activities that are fun, fulfilling, and can be by yourself or include others. The focus of this campaign is to highlight the alternatives to substance abuse and provide outlets for stress.
The Dearborn County Youth Ambassadors are looking for high-school students (9-12) to join their group and make a difference in the community! More information can be found at dearborncountycasa.com under the "Youth Ambassadors" tab. You can also follow DCYA's social media on twitter @dcyainfo and instagram @dcya_indiana. Come join this passionate group of young people in their mission to make a lasting difference. Join the prevention revolution! #idareyou