Mark McCormack's last day working for with the county is Friday.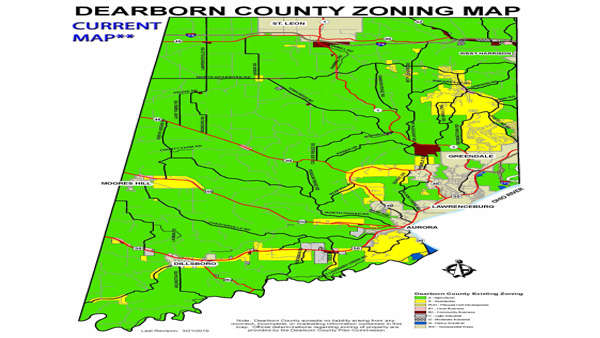 (Lawrenceburg, Ind.) - The Dearborn County Plan Commission will meet Monday, August 29 at 7:00 p.m. in the Henry Dearborn Room at the Dearborn County Government Center.
The commission will review and discuss proposed ordinance amendments and updates to the Dearborn County Zoning Ordinance. Talks about the Dearborn County Zoning Ordinance and the Zoning Map have been ongoing for some time now.
In 2020, Dearborn County Plan Commission started hosting public workshops to discuss changes to the text of the zoning ordinance, specifically with respect to Agricultural and Residential Zoning Districts including adding new zoning districts, potential changes to permitted and conditional uses within each zoning district, new or expanded or amended definitions of uses and limitations related thereto, and changes to dimensional standards such as setbacks, minimum lot sizes, lot widths, etc.
Recent housing studies in 2004 and 2019 have identified a demand for more housing options in the county. Since the original zoning ordinance and map were created in 1965, there has always been one Agricultural Zoning District and one Residential Zoning District.
As the county ordinances have not been changed to account for certain types of residential uses and structures, these types of development have been limited—in terms of the types of housing that can be built without variances, conditional uses, and / or rezones, and also the options available in the (unincorporated areas of the) county for lots for residential uses and related uses, improvements, and amenities.
Mark McCormack, the director of Planning and Zoning, has been spearheading amendments and updates to the zoning ordinance and zoning map. However, he announced this week that he has accepted a job in Union Township, Ohio as their Development Director.
McCormack's last day working with Dearborn County will be Friday, August 26.
"I have truly appreciated my time working with the members of the Dearborn County community in my 19 years," said McCormack. "This is a great community—one where I think people have the ability to work together despite differences of opinion from time to time, and where people have strong values and powerful convictions. I wish you all well in your future endeavors!"
Due to numerous reasons, including McCormack's upcoming move, limited progress has been made regarding proposed adjustments to the draft ordinance text or maps.
"I have not been able to make progress since the last meeting to make adjustments to the proposed, DRAFT ordinance text (or the maps, which would potentially be adjusted after the zoning text is finalized)," said McCormack. "So, with that said, I'm not sure how much new area will be covered with respect to this particular business item at the meeting next Monday."
To review the Draft Zoning Ordinance text and Draft Alternative Map proposals and/or to review the Existing Zoning Ordinance text and Current Zoning Map, visit Planning & Zoning / Dearborn County, Indiana.
RELATED STORIES
AUDIO: Public Workshop Tonight To Discuss Dearborn Co. Zoning Ordinance, Map