The program mails free, high-quality books to children from birth to age five, no matter their family's income.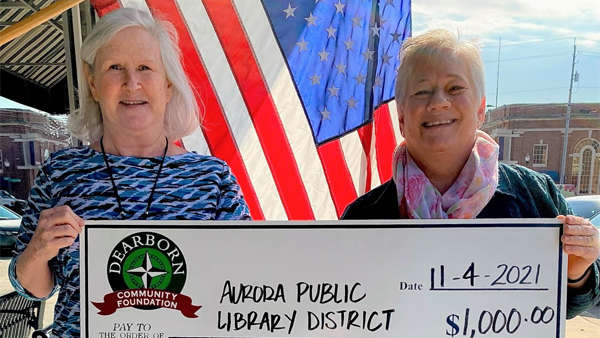 Dearborn Community Foundation Board member Jan Tyler, right, delivers a $1,000 grant check to Aurora Public Library District Director, Peggy Dean. Photo provided.
(Lawrenceburg, Ind.) - The Dearborn Community Foundation (DCF), Inc. recently awarded a $1,000 proactive grant to the Aurora Public Library District to help support a book gifting program through which free, high-quality books are mailed to children.
In a continuing effort to make an impact in the Dearborn County community, DCF is awarding 15 proactive grants of $1,000 each throughout 2021 to charitable organizations that serve Dearborn County residents. Each of the Foundation's 15 volunteer board members is recommending a grant. The money comes from the Foundation's Unrestricted Endowment Funds, established by donors to provide flexibility to address changing needs in the community over the years.
DCF Board Member Jan Tyler recommended the $1,000 grant for the Dolly Parton Imagination Library program in the Aurora Public Library District because "it's an awesome program that promotes reading, which is so important to future success."
"The program mails free, high-quality books to children from birth to age five, no matter their family's income," said Tyler, explaining a child has the monthly opportunity to build a small at-home library so he or she can read to daily. … Families may register for the program at local libraries or online. I am passionate about our libraries and the early introduction of reading to children."
In 1995, Parton launched the Dolly Parton's Imagination Library to benefit children of her home county in East Tennessee. The singer/songwriter's vision is to foster a love of reading among preschool children and their families by providing them with a specially selected book monthly.
"When I was growing up in the hills of East Tennessee, I knew my dreams would come true. I know there are children in your community with their own dreams. They dream of becoming a doctor or an inventor or a minister. Who knows, maybe there is a little girl whose dream is to be a writer and singer. The seeds of these dreams are often found in books and the seeds you help plant in your community can grow across the world," says Parton.
Overall, 170,824,458 books have been shared in the United States, Canada, United Kingdom, Australia and Ireland. To learn more, or to donate to the overall program, visit https://imaginationlibrary.com/. Go online to donate directly to the Dearborn County library districts.