The winner receives full tuition to the Indiana college or university of their choice.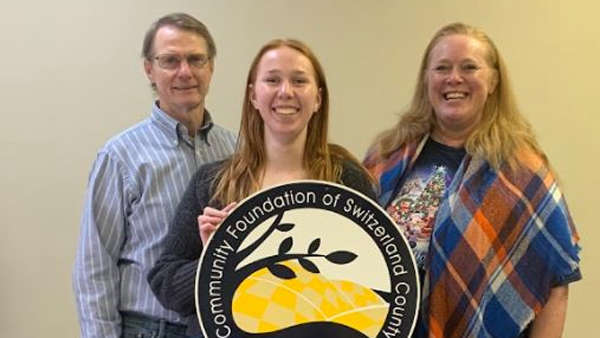 Anastasia "Annie" Faddis with her parents, Rodney and Heather Faddis. Photo provided.
(Vevay, Ind.) - The Community Foundation of Switzerland County, Inc. is pleased to announce that Switzerland County's 2021-2022 Lilly Endowment Community Scholarship recipient is Anastasia "Annie" Faddis.

Annie is the daughter of Rodney & Heather Faddis of Vevay. She has been very involved in band and has received numerous accolades. She serves as the class treasurer, vice president of student council and is involved with the National Honor Society. Outside of school, Annie has served as a 4-H camp counselor and group leader. She also works as a lifeguard at the Switzerland County YMCA and as a janitor at Aberdeen Preschool. Annie plans on majoring in biochemistry at Ball State University.

Each Lilly Endowment Community Scholarship provides for full tuition, required fees and a special allocation of up to $900 per year for required books and required equipment for four years of undergraduate study on a full-time basis leading to a baccalaureate degree at any eligible Indiana public or private nonprofit college or university. Lilly Endowment Community Scholars may also participate in the Lilly Scholars Network (LSN), which connects scholars with resources and opportunities to be active leaders on their campuses and in their communities. Both the scholarship program and LSN are supported by grants from Lilly Endowment to Independent Colleges of Indiana (ICI).

The Community Foundation of Switzerland County's selection committee reviewed thirteen applications this year. The applicants were evaluated on academics, financial need, activities (school activities, community service, and work experience) and writing samples. The selection committee used a blind process to evaluate the applications, meaning committee members did not know whose applications they were evaluating. After the Community Foundation's selection committee reviewed and evaluated all of the applications, they submitted their recommendation to Independent Colleges of Indiana (ICI), who made the final decision on the scholarship recipient.

Since 1997, ICI has administered the Lilly Endowment Community Scholarship Program statewide with funding provided by Lilly Endowment. Founded in 1948, ICI serves as the collective voice for the state's 29 private, nonprofit colleges and universities.

Lilly Endowment Inc. has provided just over $439 million in grant support for the Lilly Endowment Community Scholarship Program since the program was created for the 1997-1998 school year. To date, more than 5,000 Indiana high school students have been awarded the scholarship.

Anyone interested in learning more information about the Lilly Endowment Community Scholarship Program can contact Melissa Andrew at the Community Foundation's office. The Foundation's office is located at 303 Ferry Street in Vevay and Melissa can be reached at 812-427-9160 or mandrew@cfsci.org.