The Laughery Valley Fraternal Order of Police Lodge No. 146 Cops and Kids program hopes to take 300 area children shopping this Christmas.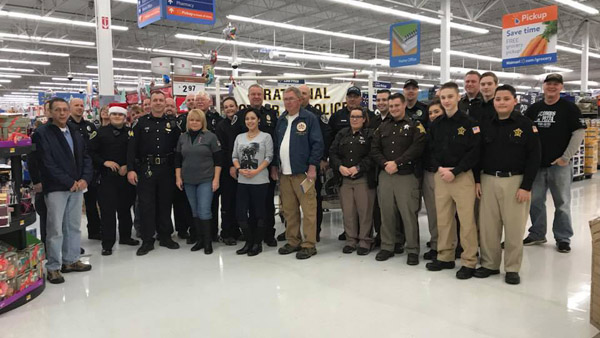 (Aurora, Ind.) – Each year, hundreds of less fortunate children and families in Eagle Country are treated to a day of Christmas shopping in Aurora.
This year will be no different as the Laughery Valley Fraternal Order of Police Lodge No. 146 will continue its Cops and Kids Program
Officers from Dearborn and Ohio County Police Departments, Combs Pizza and various other volunteers are participating in this year's program with a goal to send 300 local children Christmas shopping.
To raise funds, Combs Pizza in Aurora will begin selling special "Back the Blue" t-shirts on Black Friday, November 23 in conjunction with their buy-one-get-one hoagie deal. T-shirts will be available for $20 each with all proceeds going directly to FOP #146 for the Cops and Kids program.
The Aurora Police Department is also raising funds this month by participating in No Shave November. Anyone who would like to make a cash donation to the police department can do so in-person between 8:00 a.m. and 4:00 p.m., Monday through Friday.
The Cops and Kids Program currently has enough funds to shop for 220 children.