The new recycling and trash collection schedule goes into effect September 6.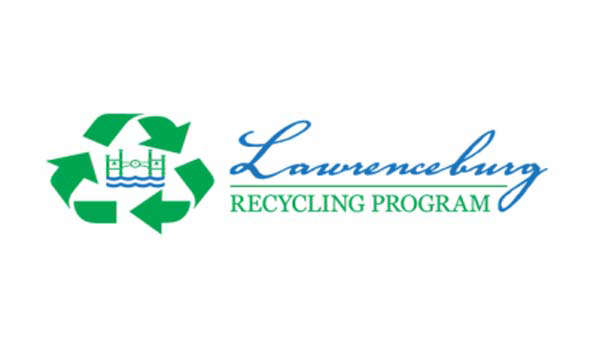 (Lawrenceburg, Ind.) - Mayor Kelly Mollaun, City Council and the City of Lawrenceburg are committed to providing quality of life and going green initiatives for our city residents with the new Lawrenceburg Recycling Program launch in 2022.
The Lawrenceburg Recycling Program is sponsored by the City of Lawrenceburg with funding in part from The Recycling Partnership. The Recycling Partnership, a nonprofit organization utilizing public-private partnerships to transform recycling across America, selected Lawrenceburg to receive grant support towards recycling cans, education and community outreach. The $25,600 grant from The Recycling Partnership helped pay for 1,600 new carts and includes funding for education and outreach about the new collection process.
"The Recycling Partnership, with support from the PepsiCo Foundation, is excited to work with the City of Lawrenceburg to improve the community's recycling program," says Haley Gabbard, Community Program Manager at The Recycling Partnership. "The additional space and increased frequency of collection will allow residents to recycle more which supports local jobs and captures more valuable recyclables needed to make new products and packaging."
GET READY! LEARN MORE ABOUT THE NEW TRASH COLLECTION SCHEDULE & RECYCLING PROGRAM AT TWO COMMUNITY PUBLIC OPEN HOUSE OPTIONS:
6-7:00PM July 12th at the Lawrenceburg Fire Department on Bielby Rd.
6-7:00PM July 13th at the Lawrenceburg Fire Department on Tate St.
WHO IS ELIGIBLE TO PARTICIPATE IN THE CITY'S CURBSIDE RECYCLING PROGRAM?
All City of Lawrenceburg residential households within city limits with less than 6 units will receive a FREE 95-gallon recycling can. These cans replace the 18-gallon recycling totes used previously. No more sorting, bending, or lifting – the new 95-gallon green recycling can will have two wheels for easy maneuvering and a lid to keep things tidy. The extra space will make recycling easier and provide more room for storage. Everyone wins when recycling with cans.
The Lawrenceburg Civil City Garage will begin delivery of the new green recycling cans to eligible residential homes starting August 25th, 2022. All residents should have their new recycling can by September 2nd, 2022. An information packet is included with each new recycling can that includes a Welcome Letter, Recycling Information with Acceptable Recycling Materials and FAQ Info Sheet.
All residents may participate with a Recycling Drop Off Location available 24/7 at the Lawrenceburg Fairgrounds on US 50. In September, an additional new public Recycling Drop Off Location will be available at the LFD on Bielby Rd. along with Residential Recycling bags for eligible city apartment/condominium households with over 6 units in the City of Lawrenceburg. Visit www.dearborncountyrecycles.com for additional locations.
WHY IS THE CITY OF LAWRENCEBURG CHANGING OUR TRASH & RECYCLING SCHEDULE?
Effective September 6th, 2022, trash collection service will no longer be offered twice a week. The change to recycling with cans and the new trash and recycling schedule is happening for a variety of reasons.
The City of Lawrenceburg has a longstanding dedication to advancing recycling in the community and we're excited to now expand recycling opportunities for our residents.
Recycling collection with 95-gallon cans is easy and will help our residents reduce trash collected in garbage cans so you'll be able to "Can it for a Greener Planet!"
The Lawrenceburg recycling cans will make it easier to recycle by providing more collection capacity at the home and are designed to easily roll to the street or road.
The new 95-gallon recycling cans with attached lid keep materials dry and prevent items from blowing out on windy days to help keep our community clean.
The Lawrenceburg Recycling Program will lead to less overflowing garbage cans and less trash collected overall which in turn helps control trash/recycling collection costs and ensure operational efficiencies.
EFFECTIVE SEPTEMBER 6TH 2022 NEW TRASH & RECYCLING COLLECTION SCHEDULE ROUTE A - TUESDAY
If your garbage was collected on Monday & Thursday, the new trash collection date will be Tuesday.
ROUTE B - WEDNESDAY
If your garbage was collected on Tuesday and Friday, the new trash collection date will be Wednesday.
CURBSIDE RECYCLING DAY -THURSDAY NO TRASH OR RECYCLING PICKUPS ON HOLIDAYS
Mayor Kelly Mollaun shared "The City of Lawrenceburg provides trash and recycling collection services FREE to city residents within city limits. Our community rollout plan to a new once a week trash & recycling collection schedule effective September 6th, 2022, is a win-win for our residents with our Recycling Committee leading a very thorough approach to ensure a smooth transition. Our goal is to roll out the Lawrenceburg Recycling Program with minimal disruption yet continue to provide an excellent service that is inclusive to all city residents. The City of Lawrenceburg and The Recycling Partnership are proudly committed to ensure that fundamental recycling options are available to create a healthy environment and economy. On behalf of the City of Lawrenceburg, I thank you for recycling today for a greener tomorrow."
Learn more at www.THINKLAWRENCEBURG.com under City Garage, Trash Collection and Recycling Services. Community Messages, Acceptable & Non-Acceptable Recycling Items, Recycling Drop Off Locations, Recycling Myth Busters, monthly Recycling Updates, Recycling Frequently Asked Questions & Important Community Reminders will be available as the new Lawrenceburg Recycling Program rolls out on our website and social media outlets.
Contact Guinevere Banschbach, Communications Director at gbanschbach@lawrenceburg.in.gov or contact the Lawrenceburg Civil City Garage at 812-537-7138 for assistance.