It was a moment of celebration on Tuesday morning.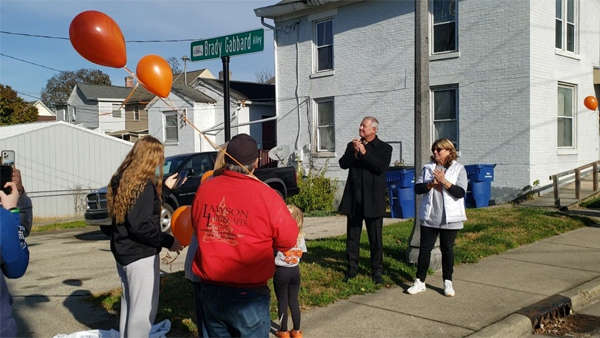 The Gabbard family and City of Lawrenceburg Mayor Kelly Mollaun unveil the Brady Gabbard Alley sign. Photo by Travis Thayer, Eagle Country 99.3.
(Lawrenceburg, Ind.) - It was a moment of celebration on Tuesday morning in downtown Lawrenceburg.
City of Lawrenceburg Mayor Kelly Mollaun, along with the family of Brady Gabbard, unveiled Brady Gabbard Alley between Short and Elm streets during a special dedication ceremony.
Brady passed away at the age of 14 on July 2 after a short battle with Stage 4 Cancer. To honor his memory, the City dedicated the alley with unanimous support from City Council.
The alley is the same one Brady played on growing up, chasing basketballs as cars tried to get by, as his grandmother, Kay, described.
Friends, school administrators, teachers, coaches, and community members gathered on Center Street for the unveiling of the sign and the release of orange and black balloons.
"It's something that family and friends, every time they go down this alley, there are going to be able to remember all of the good and positive things," said Mollaun. "I want to dedicate this alley to Brady Gabbard, and I want the family to know this is something I want you to be proud of, and I know you will. When kids are riding their bikes down this alley, they will look up and they will know at some point who this alley was dedicated to and why and who it was for."
Brady's family thanked the entire community for their support, and for gathering for the alley dedication.
"Brady might not have wanted all this attention, but I think he would have wanted this. I think he'd be proud of this," said Kay Gabbard.