The city received generous donations from the Rising Sun Regional Foundation and the Duke Energy Foundation.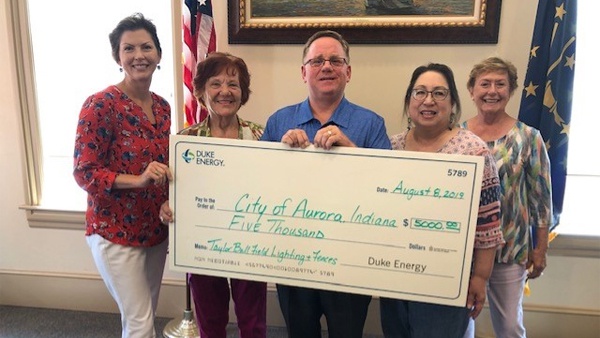 Pictured are Aurora City Manager, Guinevere Emery, Park Board Members Charlotte Hastings, Lani Valas and Cindy Rottinghaus with Duke Energy Government and Community Relations Manager, Chip Orben. Photo provided.
(Aurora, Ind.) – The City of Aurora Taylor Fields and Aurora Little League ball fields are in for a face-lift.
City manager Guinevere Emery announced Thursday that Aurora received a total of $36,250 in grant awards from the Rising Sun Regional Foundation ($28,000) and the Duke Energy Foundation ($8,250) for sports equipment, light poles, lighting and new fence installation.
As matching funds, the city has invested $35,079 between 2018 and 2019 to upgrade the ball fields along U.S. 50.
New sports equipment will support those who engage in youth softball and baseball.
"By seeking necessary safety improvements at the Girls Softball Fields and fencing for a Aurora Little League Ball Field, we are ensuring immediate safety hazards are addressed, provide increased visibility for players and attendees, continually improve the quality of play and expansion of field use for tournaments overall," said Emery.
LED lighting at the sport complex will ensure 94 percent efficiency and lower temperature operation, which will lead to lower electric bills paid by the city.
The project is expected to be completed December of 2019.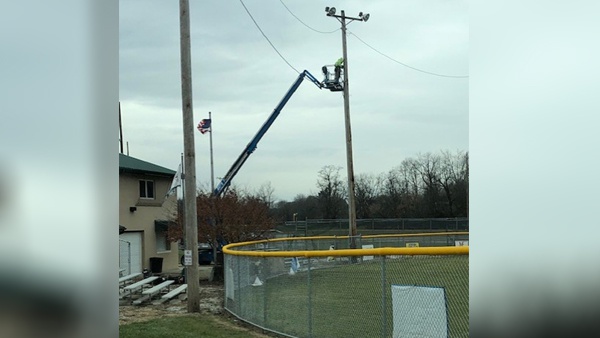 LED lighting is installed at the Aurora Little League fields. Photo provided.