A new agreement between Highpoint Health and Cincinnati State Technical and Community College will help provide clinical training for healthcare students.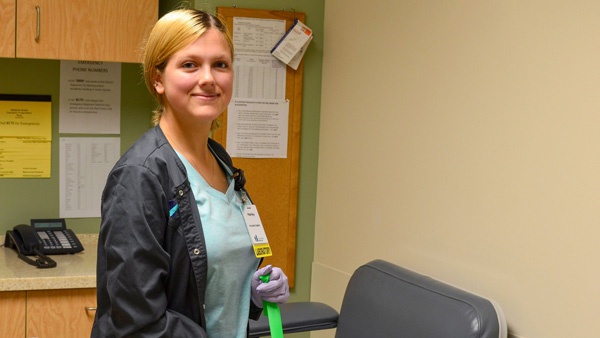 Before Phlebotomist Harley Malje draws blood from a patient, she first wraps a small tourniquet around the patient's arm. Ms. Malje, a Phlebotomist at Highpoint Health, is working on her associate degree in Medical Laboratory Technology at Cincinnati State Technical and Community College. Photo provided.
(Lawrenceburg, Ind.) - For residents of Southeast Indiana and the Harrison, Ohio, area interested in working in the fast-growing healthcare industry, a new affiliation agreement between Cincinnati State Technical and Community College and Highpoint Health may provide them with the opportunity to complete their clinical training close to home.
While the previous agreement between the two entities provided clinical training options in several healthcare specialties, the new agreement expands that to include almost every healthcare specialty for which Cincinnati State offers an associate degree program: nursing, diagnostic medical sonography, medical assisting, medical laboratory technology, occupational therapy assistant technology, respiratory care technology and surgical technology.
"Our healthcare programs have exceptional completion and job placement rates, and many students end up being offered a job where they do their clinical training," said Janelle McCord, dean of Cincinnati State's Health and Public Safety Division. "This new agreement will provide students with a head start in getting a job close to where they live."
Harley Malje, who is earning an associate degree in Medical Laboratory Technology at Cincinnati State, is planning to do her clinical training at Highpoint Health. The 19-year-old resident of Bright, Indiana, is a graduate of East Central High School. She is currently working as a Phlebotomist at Highpoint Health while she pursues her degree at Cincinnati State.
"Performing my clinical training at Highpoint Health will work well for me," said Ms. Malje. "I love how my job and schoolwork correlate with one another and how my work as a Phlebotomist enhances my understanding of my course work at Cincinnati State."
In all healthcare programs except nursing, students from Southeast Indiana pay in-state tuition rates at Cincinnati State due to a tuition-reciprocity agreement between the two states.
"In the coming years we anticipate a significant decrease in candidates applying for healthcare positions. It is important that all of us find ways to make certain that the employee candidate pool continues to grow," said Angela Scudder, Chief Nursing Officer of Highpoint Health. "At Highpoint Health we feel it is imperative that we partner with our surrounding academia and provide clinical experiences that will further professional growth. In this way we hope to support a growing number of professional candidates in all fields of healthcare."
Ivy Tech Lawrenceburg also offers programs in nursing and additional healthcare careers.
The healthcare industry is projected to add more jobs than any other occupational field, according to the United States Department of Labor. Employment of healthcare occupations is projected to grow 18 percent from 2016 to 2026, much faster than the average for all occupations, adding about 2.4 million new jobs. This projected growth is due mainly to an aging population, leading to greater demand for healthcare services.
The Department of Labor notes that the median annual wage for healthcare practitioners and technical occupations is also significantly higher than the median annual wage for all occupations in the economy.