Shannon Perry joined Eagle Country 99.3 on Wednesday.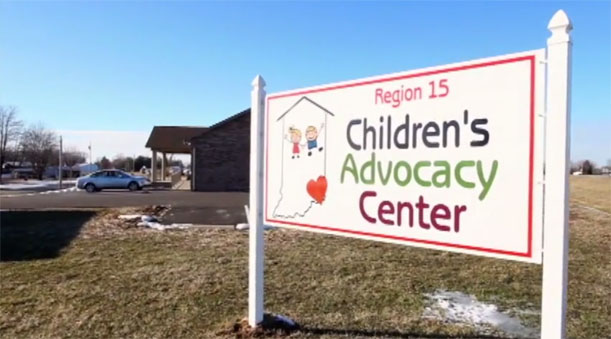 (Dillsboro, Ind.) – April is Child Abuse Prevention Awareness Month.
One in 10 children will be impacted by child abuse before they turn 18.
That is according to national statistics provided by Shannon Perry, a community outreach and prevention specialist at the Children's Advocacy Center of Southeastern Indiana.
Perry joined Travis Thayer during the Eagle Country 99.3 morning show on Wednesday to raise awareness about child abuse, and how the CAC can help local families.
HEAR DOUBLE T'S FULL INTERVIEW WITH SHANNON PERRY IN THE AUDIO PLAYER BELOW
The CAC, which is in Dillsboro, helps children who have been abused, assaulted, or been witness to a crime. The non-profit organization also has satellite offices in Greensburg and Madison and primarily serves Dearborn, Decatur, Jefferson, Jennings, Ohio, Ripley, Scott, and Switzerland counties.
Since 2009, the CAC has served over 4,000 children who were alleged victims of child abuse.
Children who are believed to witness a crime, be a victim of assault or abuse, or who are sexually abused come to the CAC after being referred from law enforcement, a prosecutor's office, or a Department of Child Services caseworker.
"We conduct what is called a forensic interview," said Perry. "We have specially trained staff members that conduct these interviews and it is a scientific process to help the child go through that disclosure. It's a safe environment. Our centers are set up like homes, so its not scary when they come in to us and we just lead an objective approach. We are there to help the child."
According to Perry, some of the signs of potential child abuse include:
Changes in behavior or attitude, such as withdrawal, passive or depression.
Malnourishment
Bruising, burns or chronic injuries
Perry also outlined the process of getting connected with the CAC in the unfortunate case that a child has been abused or witnessed a crime.
"The first thing is one of the most difficult to do especially if you are a parent and your child has been abused, but the first step really is to stay calm, to take a deep breath and just listen to the child. Reassure them and the biggest thing is to believe them. I can't tell you how many times I've sat across from a child and they have told me I just want someone to believe me."
Perry adds that parents and guardians should understand their limits and not that you are not the investigator.
"Don't ask for details, don't confront the abuser," Perry added. "We know how to handle this, let us help you."
There is a Child Abuse Hotline available at 800-800-5556, where an operator will assist with the process of reporting an abuse. For more information, visit About - CAC of Southeastern Indiana (cacsoutheast.org).
"Sometimes children can go through their whole life without every talking about their abuse because they feel ashamed or its their fault," said Perry. "We have to stop hiding child abuse."
Each year, the CAC typically raises awareness about child abuse through their annual Mardi Gras Ball at the Lawrenceburg Event Center. Perry shared exciting news on Wednesday that the Mardi Gras Ball will return in-person on February 19, 2022.
More information about the event will be released at a later date.
Get updated by following the CAC on Facebook.