The fire happen on Friday night, January 24.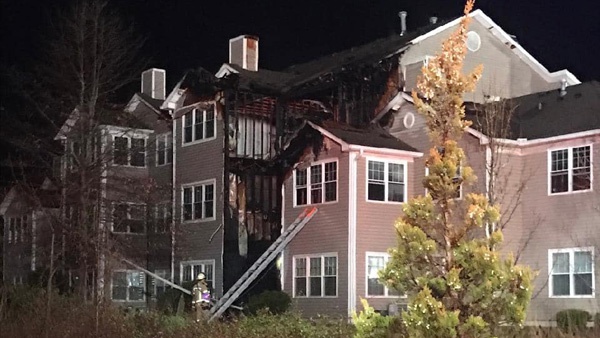 (Photo by Burgundy Hills Apartments Property Manager.)
(Burlington, Ky.) - A two-alarm building fire at a Burlington apartment complex caused some residents' homes to be destroyed this past weekend.
On Friday evening, a call was made regarding a fire on the 1800 block of Bordeaux Boulevard.
Firefighters called to the scene were able to extinguish the fire, but not before damage was done to three apartments, reported FOX 19-NOW.
Although there were no injuries were reported, families living in those apartments are being majorly affected.
The general manager of the complex has reached out to the community on Facebook looking for donations for the impacted families.
The post reads: "I'm reaching out to see if anyone would be so generous and kind to donate things such as blankets, baby clothes, canned goods, clothing, health & beauty products (shampoo/ conditioner, soap, toothbrushes, toothpaste, wipes, size 2-4 diapers) and etc. to help the families that are impacted in this tragic event."
Donations can be taken to the Burgundy Hills Apartments Leasing office, located behind the Burlington Kroger at 1800 Bordeaux Blvd, Burlington, KY 41005. For more information, call (859) 689-4444.