Jack and Will Hartman presented a check to the parish on Tuesday.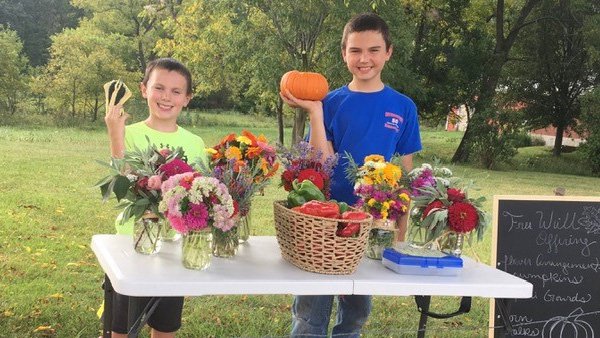 Jack and Will Hartman spent their summer selling produce and flowers in order to raise money for Phase 2 of the Heritage Project. Photo provided.
(Sunman, Ind.) – Most kids spend their summertime playing with their friends, but for two St. Nicholas School students their summer was about giving back to their school.
On Tuesday, Jack and Will Hartman presented a $310 check to the parish to go towards Phase 2 of the Heritage Project, which includes a new gym, cafeteria, and playground.
Jack (grade 2) and Will (grade 4) raised the money by selling produce and flowers.
"Our mission is to build saints and scholars," said Sherri Kirschner, principal at St. Nicholas School. "Will and Jack are wonderful examples of God's call to be of service to others, and we are very proud of them. They are definitely living our mission.
St. Nicholas continues to seek donated for Phase 2 of its Heritage Project. The fundraising goal for the Fellowship Center is $2.8 million.
Phase I construction of the new Education Center was completed in August of 2019 in time for the 2019-20 school year.
For more information about the Heritage Project, visit https://www.stnicholas-sunman.org/heritage-project.
RELATED STORIES
St. Nicolas Schools celebrate newly constructed Education Center with ribbon-cutting ceremony
At St. Nicholas School, Construction A Welcome Distraction