Indiana DNR has stocked the tailwater area at Brookville Lake with thousands of new brown trout.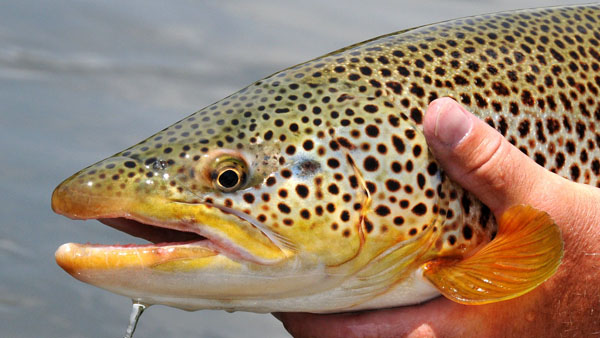 Photo by USFWS Mountain-Prairie, Flickr.
(Brookville, Ind.) - Brookville Lake tailwater has received more than 3,000 new brown trout averaging 8 inches thanks to the DNR's annual stocking of the area.
The stocking was split between the State Route 101 bridge and Brookville Town Park. The DNR also stocked 1,500 rainbow trout in late April.
Special trout regulations for the Brookville Lake tailwater include a 7-inch minimum length limit for rainbow trout and an 18-inch minimum length limit for brown trout. The daily bag limit is five trout, of which only one can be a brown trout. A fishing license and trout stamp are required to fish for trout.
Best catch-and-release practices while fishing for trout include minimizing time that the fish is out of water, minimizing time reeling in and unhooking the fish, and wetting hands prior to handling the fish. Catch-and-release anglers who hook a trout in a sensitive area, such as the gills, gut or throat, are encouraged to leave the hook in the fish and cut the line at the hook eye. Fish often shed hooks quickly and this method increases their chances of survival.
The Brookville Lake tailwater is cooler than most southern Indiana streams. During the summer months, controlled releases of water from the depths of Brookville Lake cool the water. The cooler temperatures allow stocked trout to survive year-round and grow larger than trout in other stocked waters in southern Indiana.
Brookville Lake tailwater is on the East Fork of the Whitewater River in Franklin County.
For additional information on trout stockings visit wildlife.IN.gov/5457.htm.
To view all DNR news releases, please see dnr.IN.gov.